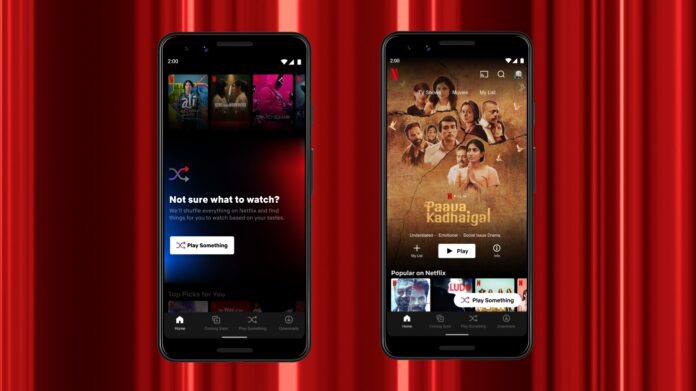 Video streaming giant, Netflix is now officially rolling out its shuffle play feature, Play Something for its Android users, after first launching it for TV devices only. The shuffle mode feature will make it easier to find something to watch when you can't make a decision. The latest feature is called Play Something which is a shuffle play feature that will play another movie or show Netflix believes a user may prefer, according to the users' interests and their earlier viewing behavior.
Instantly Watch a Title: Netflix Play Something
Furthermore, the feature had been in development for some time now before its official release. For instance, the previous year, Netflix was testing it as "Shuffle Play." And in its Q4 2020 earnings, Netflix stated it would roll out its shuffle mode to users worldwide during the first half of 2021, calling it a way to "instantly watch a title" that was chosen just for the user.
The feature can be located in several places, including on the profile selection screen below the profile name, on the navigation menu to the left of the screen, and the tenth row on the Netflix homepage — a location that's meant to appear right at the point where a user is starting to get frustrated with browsing and may have otherwise exited the app.
Read more: Play Something, Netflix launches much-awaited shuffle feature for users worldwide
The Shuffle Play Feature is Soon to Launch for iOS Users Also
Moreover, in this new shuffle mode feature, Netflix users with screen-readers could also use Text-to-Speech (TTS) to use "Play Something." The corporation said at the time it would soon begin testing the feature on mobile devices, beginning with Android devices. The company then started those tests in late May. That's now changing, as Netflix is officially bringing the latest feature to all Android mobile devices globally. According to the company, the test for the iOS version will be starting soon. 
Netflix to Launch TikTok-Style Comedy Feed 
In addition to this, the company is rolling out Fast Laughs, its TikTok-style comedy feed that draws funny clips from its catalog, for Android users. Previously exclusive for iOS users, the feature will now also be available for Android in the US, Canada, UK, Australia, Ireland, India, Malaysia, Philippines, and other selected markets. Moreover, Play Something is including other newer additions as well, a smart downloads feature called "Downloads for You", and support for partial viewing downloads, along with last year's edition of the Top 10 list.
Source: TechCrunch