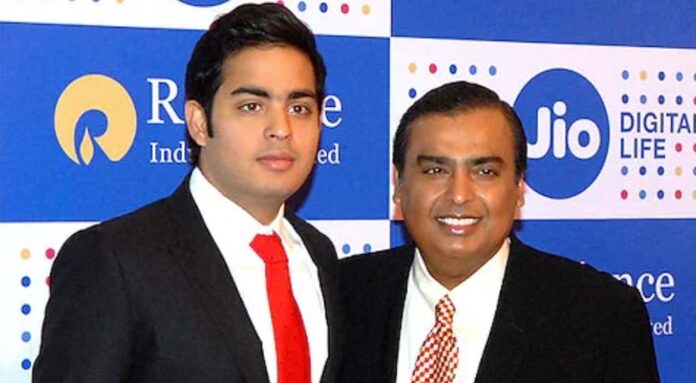 Indian tycoon Mukesh Ambani has resigned as director of Reliance Jio effective from June 27 and has now handed over the reins of the Reliance Jio to his elder son Akash Ambani. In a stock exchange filing, Reliance Jio stated that the company's board at a meeting approved the appointment of Akash Ambani, non-executive director, as chairman of the board of directors of the company.
The board at its meeting also approved the appointment of Pankaj Mohan Pawar as Managing Director of Reliance Jio for five years commencing from June 27, 2022. Raminder Singh Gujral and KV Chowdary were appointed independent directors. However, Mukesh Ambani will continue as the chairman of Reliance Jio Platforms Ltd, the company that owns all Jio digital services brands including Reliance Jio.
Akash Ambani is Involved in the Development of New Technologies
Moreover, Akash Ambani is an economics graduate from Brown University in the US, has been involved in the development of new technologies and capabilities, and will continue to work towards making data and technology more accessible to all, the company said in a statement. According to TRAI data, India's largest telecom operator, Reliance Jio, had gained 16.8 lakh, mobile subscribers, in April, cementing its lead in the market.
Mukesh Ambani, 65, has credited his children for the inception of Reliance Jio five years ago. The firm says Akash has been involved with several of Jio Platforms' strategies, including recent merger and acquisition moves. Reliance units have backed a number of startups in recent months, including investments in hyperlocal delivery startup Dunzo and mobile platform Glance.
Jio Platforms Has Raised More Than INR 1.52 Lakh Crore Investment
Jio Platforms has over the last two years raised over INR 1.52 lakh crore investment, divesting a 32.97% stake to investors such as Meta, Google, and 12 other marquee investors such as Intel, Qualcomm, Silver Lake, and KKR. "Akash was integrally involved in the trailblazing global investments by tech majors and investors in 2020, which in many ways catapulted Jio onto the global investor map," another company official said.
Read more: India's Market Regulator Fines Reliance for the Delay in Disclosing Deal with Meta