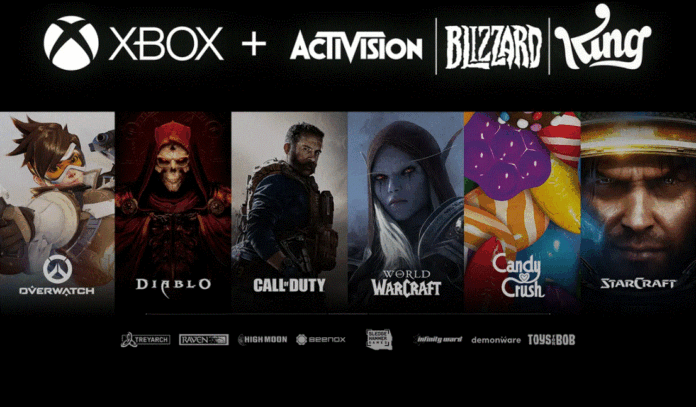 Tech giant, Microsoft has now announced its plans to acquire 'Call of Duty' developer, Activision Blizzard for $68.7 billion in the largest gaming industry deal in history. The Microsoft Activision Blizzard acquisition deal announced by Microsoft on Tuesday, will strengthen its firepower in the thriving video gaming market where it takes on leaders Tencent and Sony.
Microsoft's Activision Blizzard Acquisition is the Largest Gaming Industry Deal 
Microsoft Activision Blizzard acquisition further represents the American multinational's chance on the "metaverse," virtual online worlds where people can work, play and mingle, as many of its biggest rivals are already doing. "Gaming is the most dynamic and exciting category in entertainment across all platforms today and will play a key role in the development of metaverse platforms," Microsoft Chief Executive Satya Nadella said.
Microsoft, one of the largest companies in the world mostly thanks to corporate software such as its Azure cloud computing platform and Outlook franchise, which is valuing single share at $95, a 45% premium to Activision's Friday close. Activision's shares were last up 26% at $82.10, still a steep discount to the offer price, reflecting concerns the deal could get stuck in regulators' hands.
Furthermore, Microsoft has so far evaded the type of scrutiny encountered by Google and Facebook but Microsoft Activision Blizzard acquisition deal, which would make it the world's third-largest gaming firm, will put the Xbox maker on lawmakers' radars, said Andre Barlow of the law firm Doyle, Barlow & Mazard PLLC. "Microsoft is already big in gaming," he said.
Microsoft is Confident of Winning Antitrust Approval
However, a source acquainted with the matter stated Microsoft would pay a $3 billion break fee if the Microsoft Activision Blizzard acquisition deal falls through, implying it is confident of winning antitrust approval. The tech's major shares were last down by 1.9% to $304.20. According to Refinitiv data, the Microsoft-Activision deal would be the biggest all-cash acquisition on record, overtaking Bayer's $63.9 billion offer for Monsanto in 2016 and the $60.4 billion that InBev bid for Anheuser-Busch in 2008.
Read more: Take-Two to Acquire Social Games Developer 'Zynga' for $12.7 Billion
Source: TechCrunch