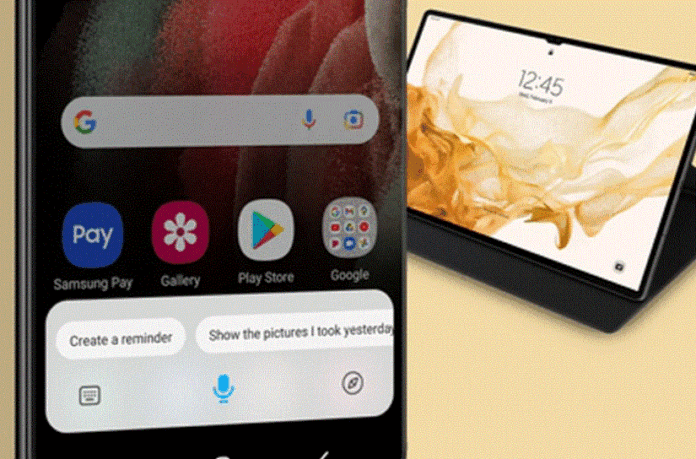 In recent news, a Samsung support page has just shown the first official glimpse of the firm's upcoming flagship Galaxy Tablet. The picture was first discovered by 91Mobiles, the picture displays a familiar-looking Samsung smartphone alongside a very unfamiliar-looking tablet, finished with a display notch that Samsung ridiculed when first presented on the iPhone X.
The New Flagship Galaxy Tablet is Samsung Galaxy Tab S8 Ultra
Statements suggest this new flagship Galaxy Tablet will be named the Samsung Galaxy Tab S8 Ultra, and it may be announced as early as next month. The design exhibited in the image on Samsung's site coordinates with unofficial renders of the tablet launched last October, leaked images from December, and leaked details from this month. If these unofficial details are to be considered, the Android tablet will have a 14.6-inch OLED display, with a 120Hz refresh rate and a resolution of 2960×1848. 
Read more: Samsung Reveals its First Smartphone Chip that Uses AMD Ray Tracing GPU
Moreover, the notch is considered to be housing two 12-megapixel selfie cameras. It's not exactly clear what the second sensor may be for, but other gadgets have added ultrawide cameras for group selfies. Internally, the flagship Galaxy Tablet is thought to be operating Qualcomm's latest Snapdragon 8 Gen 1 processor, paired with an 11,200mAh battery, up to 16GB of RAM.
The New Model is to Sit as the Top of a Three Tablet Lineup
Furthermore, the flagship Galaxy tablet, Galaxy Tab S8 Ultra will reportedly sit at the top of a three-tablet lineup, which comprises the Tab S8 and Tab S8 Plus. All three tablets are rumored to be powered by the same processor and feature S Pen stylus support, but the S8 Plus will reportedly have a smaller 12.7-inch OLED display and 10,090mAh battery, while the base S8 could have an 11-inch LCD and an 8,000mAh battery.
Moreover, there's no official news on when the new tablet lineup may make an appearance, but with the Galaxy S22 lineup reportedly rolling out on February 8th, it wouldn't be startling to see these tablets rollout along with it. 
Source: The Verge