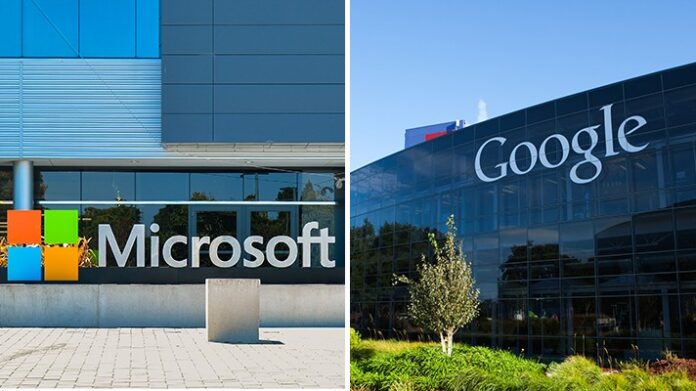 Tech giants Microsoft and Google have ended an almost six-year truce to prevent public warfare between the competitive Big Tech corporations, unblocking the way for a direct fight as regulators aim limits to competition among the preeminent US technology groups.
The two firms concluded an unusual pact in 2015 to finish a running legal battle, forged soon after Sundar Pichai became the CEO of Google and Satya Nadella as CEO of Microsoft.
However, the pact lapsed in the middle of April when the two parties chose not to renew it. The decision to let it lapse came as regulators around the world seek to question practices that may have protected the leading tech firms and stopped more open competition. 
Read more: Microsoft awards $30,000 to Indian ethical hacker, Aditi Singh, for spotting a bug in Azure System
Following the arrangement, the organizations had resolved outstanding lawsuits and accepted not to sue or complain about each other to regulators without first attempting to settle disputes at the highest level internally.
The pact further tried to bring more solid co-operation in areas of common business interest, though people close to both organizations have reported that it did nothing to diminish direct opposition in markets including cloud computing and online productivity applications.
"It's always a little puzzling when you see direct competitors working on private agreements," Eric Goldman, a law professor at Santa Clara University, said of the 2015 pact. Though, he said that concluding the "dirty tricks" used by both parties seemed to be a way to stop the toxic rivalry without significantly reducing competition. "The tricks Microsoft was playing on Google were hurting the entire industry — including Microsoft," Goldman added.
Moreover, some of the conflicts between Microsoft and Google were serious before this arrangement, and they're expected to get ignited once again. During the rise of Windows Phone in 2013, there was an especially intense battle between Microsoft and Google over YouTube. Months later, Microsoft was outselling anti-Google mugs and T-shirts, and appearing rather bothered concerning Chromebooks.
Source: The Verge