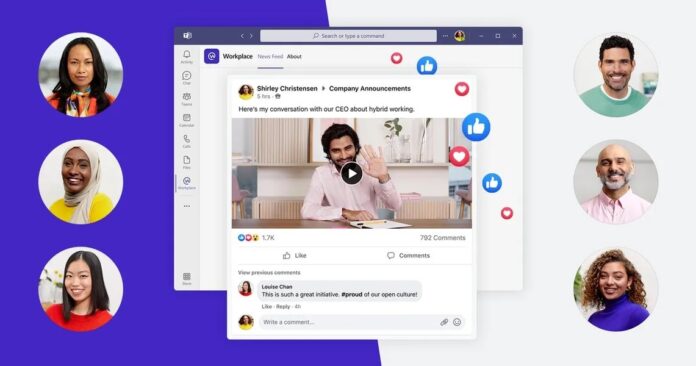 On Wednesday, Meta announced its partnership with Microsoft that will enable customers to integrate Meta's business social network software, Workplace with Microsoft Teams. The integration of the two applications gives customers passage to Facebook-like Workplace content inside the Teams app. Likewise, users can view Teams video meetings in the Workplace app.
Facebook-like Workplace is Centered on Companywide Communications
Furthermore, the partnership between Meta and Microsoft brings together two competitors that compete in the enterprise communication software business. Facebook-like Workplace and Teams, though, do not have comprehensive overlap. Whereas Facebook-like Workplace is centered on broad, companywide associations, Teams is centered on prompt communication between workers and their direct co-workers.
Moreover, this integration of the two platforms had been requested by customers including Vodafone and Accenture, stated Meta's head of Workplace, Ujjwal Singh. "The way our customers end up using it is customers use the complementary features, not the competing features," Singh said. "There are customers that are just Facebook-like Workplace shops, and then there are customers that are just Teams shops. This is really for those customers that use both."
The Partnership Will be More Profitable for Meta
The partnership could prove most profitable to Meta. Its Facebook-like Workplace service drastically lags behind its rivals in terms of users, the platform announced 7 million paid subscribers in May. Microsoft in July declared that its Teams product now has 250 million monthly active users. Salesforce-owned Slack no longer breaks out user figures, but the firm said it had 12 million every day, active users, in September 2019, the last time it announced that statistic. 
Read more: Microsoft Surpasses Apple to Become the World's Most Valuable Public Company
Two Best-in-Class Products Coming Together 
Although Workplace has integrations with Microsoft's Office 365, SharePoint, Azure Active Directory, OneDrive, and now Teams, there is no integration with Yammer, Singh said. "I would say we're best in class around the community, connection, people first, and serving all employees," Singh said. "Teams is arguably best in class around productivity, so this is really two best-in-class products coming together to solve an employee-experience problem."
Source: The Verge