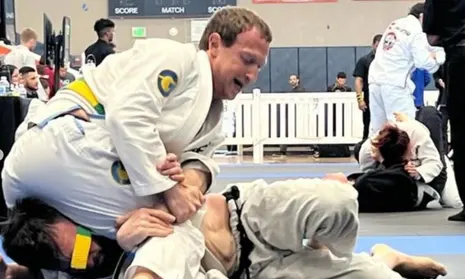 The CEO of Meta, Mark Zuckerberg has won gold and silver medals at his very first Brazilian jiu-jitsu tournament in Redwood City, California, adding to his vast array of extracurricular activities. Zuckerberg won the gold medal in the Nogi Master 1 White Belt Feather Weight Division and the Silver medal in the Gi Master 2 White Belt Feather Weight Division.
Jiu-jitsu Tournament: Mark Zuckerberg Shares His Win on Facebook
Mark shared his victory on Facebook saying; "Competed in my first jiu jitsu tournament and won some medals for the Guerrilla Jiu Jitsu team." The post has garnered more than 40,000 comments including appreciation messages from UFC fighter Conor McGregor and jiu-jitsu world champion Bernardo Faria. In a podcast with Joe Rogan, Zuckerberg mentioned that he found Jiu-Jitsu to help boost his energy and focus at work.
Mark said that during Covid-19 he got super into surfing and foiling, and then really into MMA. "I know a lot of people who do it. MMA is like the perfect thing because it's like, if you stop paying attention for one second, you're gonna end up on the bottom," he noted. Later in 2022, Zuckerberg posted footage of himself sparring with mixed martial artist Khai 'The Shadow' Wu ahead of the fighter's UFC debut. The video attracted hundreds of thousands of likes, quickly went viral and drew comments from many big names in the fighting world.
Congratulatory Messages From Around the World
Zuckerberg received support for his new hobby from several high-profile athletes. Former UFC champion and student of anger management Conor McGregor commented on the post: "Yo!!! F***ing awesome Mark." Brazilian Bernardo Faria, the five-time world jiu-jitsu champion, said of Zuckerberg's win: "Amazing!!! Half guard, arm-bars, triangle! Super cool!'"
Also read: Mark Zuckerberg Loses 119 Million Facebook Followers