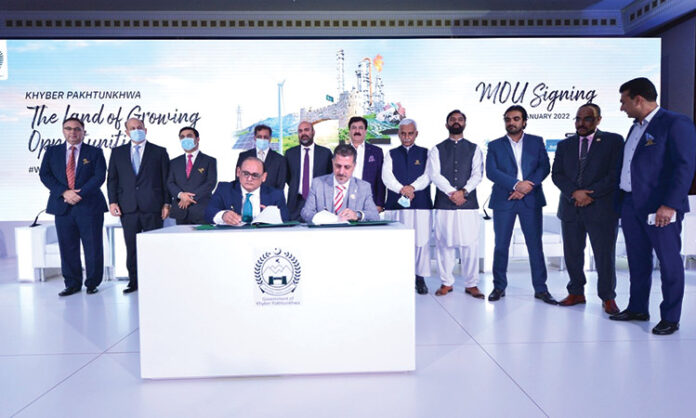 The Khyber Pakhtunkhwa government, signed 44 MoUs with investors and international firms to invest in various sectors of the province. The MoUs were signed at the Dubai International Expo 2020 with a number of UAE-based firms as well as Egypt, Malaysia, Lebanon, and others. The 44 MoUs were signed in the presence of Taimur Saleem Jhagra, Provincial Minister for Finance, Shoukat Yousufzai, minister for culture, Ziaullah Bangash, member provincial assembly, Abdul Karim Khan, special advisor on industries for Chief Minister, Afzal Mehmood, Pakistan Ambassador in UAE, Additional chief secretary Shahab Ali Shah, Amir Tareen Sultan, secretary Tourism Department and others attended the conference.
Read More: PTCL and The City School Sign MoU for Providing Premium ICT Services
The 44 MoUs deal will inject $8 billion into Pakistan 
The 44 MoUs were signed by the KP government in various sectors, such as; integrated tourism, water sports, industries, energy and power, infrastructure, food processing, livestock, and others. Khyber Pakhtunkhwa (KP) Provincial Minister for Health and Finance Timur Saleem Jhagra has said that the provincial government is also emulating the UEA model to increase foreign tourism in the province. He added that the projects have already been prepared for their presentation at the expo, and there is a lot of room for investment in KP's tourism sector.
Speaking on the occasion, Additional Chief Secretary Shahab Ali Shah said that the government was ready to provide all possible support to the investors and international firms. He said that only those projects had been showcased in the expo whose feasibility reports had been completed and were ready for investment. He further mentioned that the Bank of Khyber would launch its own mobile App through which UAE-based Pakistani workers and investors could open their bank accounts and BOK would canalize remittances through that app.
Investment details
Here are some of the investment details of the projects signed with investors and international firms:
The Lower Spath Gah project would see the Korea Hydro and Nuclear Power Company invest $1.2 billion into it.
The Kuwait-based Enertech-Kuwait Investment Authority (KIA) will invest $120 million in the development of a hydrogen power plant. The company will generate hydrogen from water, which will be transported through containers and used to generate energy.
KIA has inked another MoU for a $2.7 billion investment in Khanpur's sustainable development.
A private business, SE Alpine Group, would invest $150 million in a public-private collaboration to create a ski resort in Kalam.
Another private corporation, Zonergy, invested $300 million in the province's solarization of government buildings and the development of a PV manufacturing facility.
Gezhouba Group Corporation, meanwhile, plans to invest $250 million in a transmission line between Chitral and Chakdara in Lower Dir.
Source: The NEWS