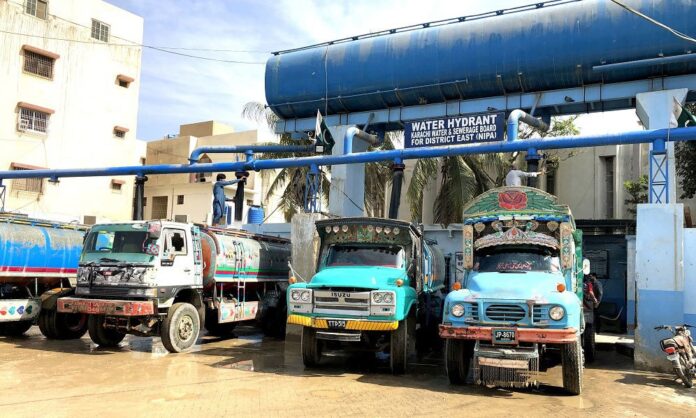 The Karachi Water and Sewerage Corporation (KWSC) has begun a transformative journey by introducing a cutting-edge digital tracking system for its water tanker service. With QR codes now adorning 550 registered water tankers, this initiative marks a pivotal moment in the city's efforts to combat water theft via illegal hydrants.
Enhancing the Efficiency of Karachi Water Tanker Service
Mayor Barrister Murtaza Wahab, who also holds the position of KWSC's chairman, recently unveiled this digital leap forward. The primary objective is to ensure the seamless distribution of chlorinated and purified water through these tankers, revolutionizing the way Karachi's residents access this precious resource.
During a recent inspection at the hydrants management cell within KWSC's headquarters in Karasaz, Mayor Wahab emphasized that this innovative system introduces real-time monitoring of water supply from hydrants, a  first for the city; this shift promises improved accountability and efficiency in water distribution.
A Swift Response to Public Needs
Incorporating state-of-the-art software into the hydrants management center, the KWSC aims to provide immediate assistance to the general public. The system generates an electronic slip for the public, containing all pertinent information about the water tanker. Utilizing QR codes, the identification of illegal tankers becomes a swift and precise process, thwarting water theft attempts effectively.
Currently, Karachi relies on a daily water supply of 570 million gallons from Keenjhar Lake and Hub Dam, a lifeline for a city of this magnitude. Despite the presence of seven authorized hydrants, more than 150 illegal ones have plagued the city for years. Authorized hydrants supply a mere fraction of the demand, contributing only 11 to 13 million gallons through tankers.
Read more: Waqar Zaka Urges Pakistan to Embrace Digital Currency