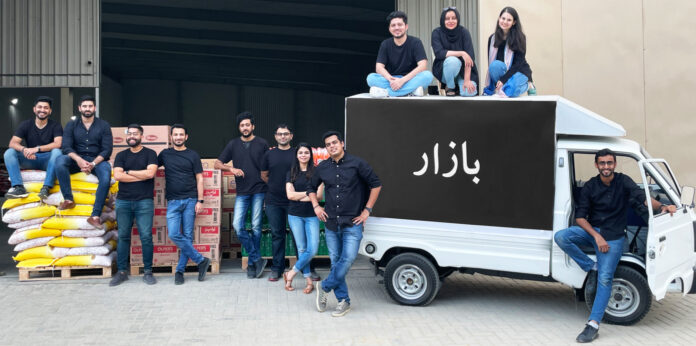 Karachi-based B2B marketplace and digital ledger startup, Bazaar has successfully raised $30 million in the largest Series A round for a Pakistani startup. The funding round was led by California-based early-stage Venture Capital Defy Partners and returning investor Wavemaker Partners.
The deal also included participation from US-based Acrew Capital, Japan's Saison Capital, Zayn Capital, B&Y Venture Partners, a Silicon Valley-based growth fund, and present investors; Indus Valley Capital, Global Founders Capital, Next Billion Ventures, and Alter Global. Several angel investors including present and former leaders of Antler, Careem, Endeavor, Gumroad, LinkedIn, and Notion.
Bazaar is a Mobile-Only B2B Marketplace Startup
The B2B marketplace startup was established in mid-2020 by Saad Jangda and Hamza Jawaid, with a purpose to create an operating system for conventional retail in the country, enabling retailers to directly connect with manufacturers and wholesalers. Its mobile-only B2B e-commerce marketplace permits retailers in Karachi and Lahore to obtain inventory for their stores. Bazaar has also rolled out a digital ledger app Easy Khata earlier this year to assist retailers all over Pakistan to manage their bookkeeping. 
Read more: Bazaar, Karachi-based B2B e-commerce startup launches digital ledger app 'Easy Khata'
Till Now the Startup has Assisted Over 750,000 Retailers
Bazaar in a statement stated that both the applications have assisted over 750,000 retailers to date. The statement further mentioned that the startup has a faithful customer base with 90 percent retention, "The strong engagement and retention comes as a result of its deep focus on simplicity and delight in its products."
Defy Partners are Impressed with Bazaar's Achievement in this Past Year
Kamil Saeid, a Partner at Defy Partners, praised the workings of Bazaar, and what the startup has managed to achieve in the last year. Defy Partners are extremely impressed by the pace and robustness with which the startup has been built and deployed. As Defy's first venture into Pakistan's burgeoning tech environment, they believe Bazaar is on its way to producing a category-defining firm for Pakistan. 
Furthermore, in a statement, the founders of Bazaar said, "Bazaar is going after a massive opportunity with the ultimate aim of creating a generational story in and from Pakistan. In a country with incredible talent and huge market opportunity, it's about time we create an inspirational story that brings together the country's best talent who can go on to create many such stories in the future."
Source: TechCrunch