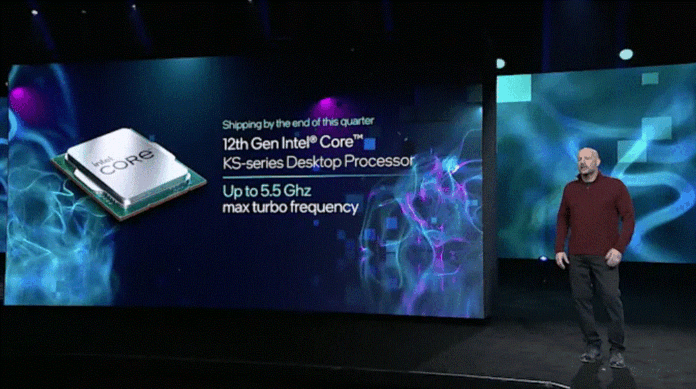 Intel has officially unveiled a new 12th-gen CPU that's capable of increasing to 5.5GHz on a single core out of the box. The news came during Intel's CES 2022 presentation, when it said the KS-series desktop processor would be shipping later this quarter, but there was no comment on the pricing.
The New 12th Gen CPU Will Strike a Maximum of 5.5GHz on a Single Core
The full name of the 12th Gen CPU chip is the Core i9-12900KS, and Tom's Hardware notes the "S'' suffix suggests it'll be a limited edition. As well as striking a maximum of 5.5GHz on a single-core, an onstage demonstration of the new 12th Gen CPU powering Hitman 3 revealed that the processor operating at a sustained 5.2GHz across all its performance cores. 
Read more: Apple Underwent a Loss of $6 Billion Due to Global Chip Shortage, Says CEO Tim Cook
Moreover, no information was provided about what sort of power draw or cooling solution was required to acquire these results. Intel executive vice president Gregory Bryant noted only that the CPU would be shipping to "OEM customers" during the presentation suggesting that, in the immediate future, you'll have to buy a prebuilt PC to get your hands on one of the 12th Gen CPU chips. As well as this new top-of-the-line CPU, Intel also used its CES presentation to announce a range of new mainstream desktop and laptop.
The Latest Intel Chip Will Provide Impressive Gaming Experience
Furthermore, the latest Intel chip is being stressed to attain a Max Turbo speed, so don't expect that to be supported for long. According to Bryant, the KS chips will also be able to go beyond 5GHz across multiple cores when they arrive this spring. That'll be especially beneficial for rendering and other challenging work, but both milestones should provide some impressive gaming performance too.
Source: The Verge