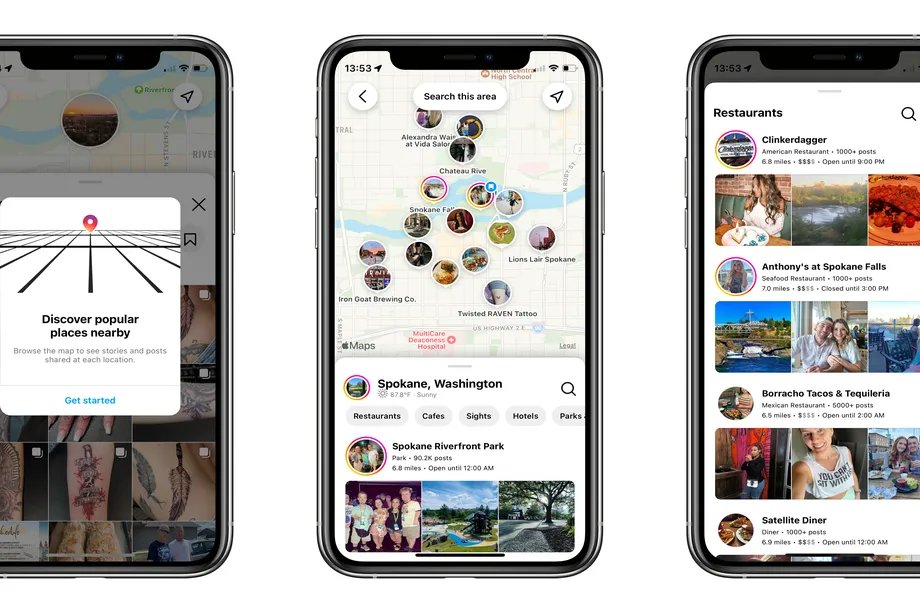 Meta CEO, Mark Zuckerberg, has announced a new dynamic and searchable map feature on Instagram that will allow the users to explore popular locations or businesses around them and filter the results based on specific categories including restaurants, cafes, salons, etc. Zuckerberg said in his Instagram story; "We're introducing a new searchable map feature on IG today. You can now discover popular local businesses near you and filter by category."
Instagram's Searchable Map Feature
According to the company, the new searchable map feature will allow users to have a more immersive experience when finding popular locations and businesses around them via tagged posts, stories, and guides. The searchable map will let you tap on location tags in posts and stories, and scroll around the tagged areas. Moreover, you can also search cities, neighborhoods, or other places in the Explore tab, or search for locations via hashtags.
Once you have located the area, then you can narrow down your search by filtering the results to restaurants, bars, parks, and other types of places, you can also save locations for later use. If your profile is public, you can use location tags or stickers in your content to make it appear on the map for other users to see, this feature is more like Snapchat which allows users to post public stories attached to a specific location.
Read more: Facebook Announced Shops for Groups and Live Shopping for Creators
Young People are Using Instagram and TikTok Instead of Google Search or Maps
A Google exec acknowledged that younger users are increasingly turning to apps like Instagram and TikTok instead of Google Search or Maps to discover new places or search for the latest information. Senior Vice President Prabhakar Raghavan, who runs Google's Knowledge & Information organization, said that the core Google services were being impacted by a growing preference for social media, and 40 percent of 18 to 24-year-old users go to TikTok or Instagram when they are looking for a place for lunch, rather than Google Maps or Search.