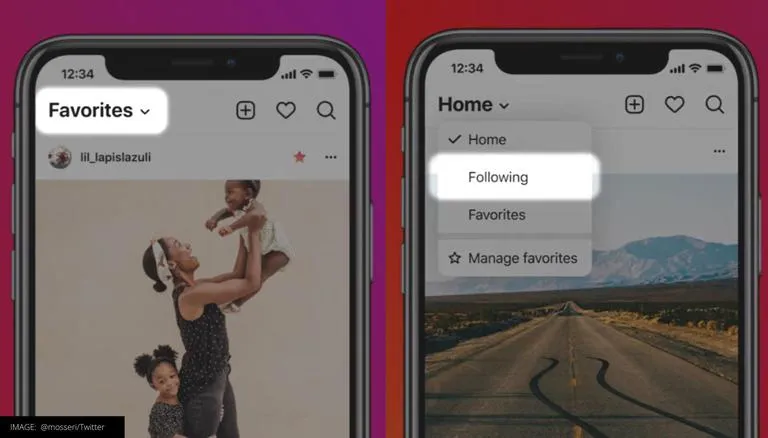 Instagram has officially launched two alternate ways of viewing your feed: Favorites and Following. The new feature allows users to either view posts from all their followed accounts or in reverse chronological order. The Favorites and following feature was in the testing phase since January but it has now rolled out to all Instagram users. In both of the two new feed options, Following, and Favorites, posts will appear in chronological order without any other ranking involved, Instagram notes.
Favorites and Following: What's the difference?
As promised, Instagram's head, Adam Mosseri, brought back the chronological feed as he indicated during his statements made in December 2021. During a Senate hearing, he was asked if people can use the application without being manipulated by the algorithms. To which he replied that the company is working on a feature that would give users that choice, which is planned to launch in early 2022.
The following feature allows users to view the posts of everyone they follow starting with the most recent post. Whereas, the Favourites limits the feed to a maximum of 50 accounts, of your preference, that can be updated any time. The new features are available in addition to the standard Home experience, and users can now easily switch between Home, Following or Favorites feed styles.
Switching between the feeds
In order to switch between the two feeds; you have to open the updated Instagram app and by tapping Instagram in the top left corner of your home page you can select between Following & favorites feed. However, if you want to add accounts to the Favorites you have to simply tap the three-dot icon located on the top of your favorite account's post and add them to favorites. The accounts on the Favourites list will also be displayed higher in the feed, along with a star icon.
Read more: Instagram Develops a Favorites' Feature to Organize Chaotic News Feed
Source: Tech Crunch