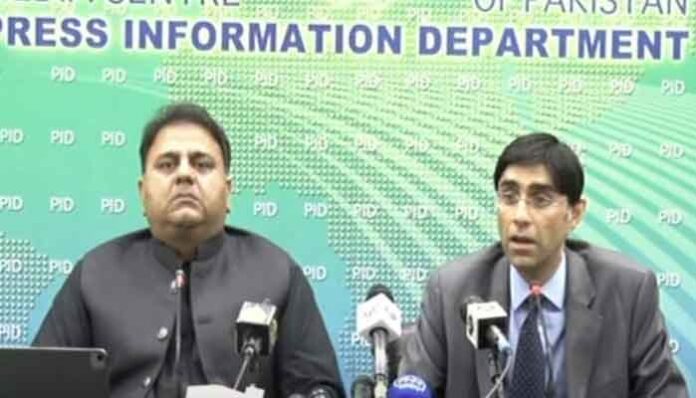 According to the recently published Anti-State Trends Deep Analytics Report (2019 to 2021, more than 150 anti-Pakistan trends were launched on Twitter from India and Afghanistan during the last two years.
As per the report compiled by the Digital Media Wing (DMW) of the Ministry of Information and Broadcasting (MoIB), more than 3.7 million tweets were posted against these anti-Pakistan trends which lasted over 1,000 hours.
Anti-State Trends Deep Analytics Report (2019 to 2021)

Download full report here: https://t.co/W9LPdM48LO pic.twitter.com/NUr0tZIvnS

— Digital Media Wing Pakistan (@PakistanDMW) August 11, 2021
The NSA, accompanied by Minister for Information and Broadcasting Fawad Chaudhry, shared with media, the data concerning anti-Pakistan social media trends that were launched between 2019 and 2021, the majority of which have been traced to India and Afghanistan, to initiate a "targeted, intentional and deliberate disinformation operations against Pakistan".
For example, after the crackdown of Police against Tehreek-i-Labaik Pakistan (TLP) in Karachi, the trend '#CivilWarinKarachi' was started from India and hundreds of thousands of tweets were posted against it in just a few hours.
Moeed Yusuf, the National Security Adviser stated that the government's social media units and think tanks have worked extensively to collect evidence to prove India's and Afghanistan's role in repeatedly maligning Pakistan using fake social media accounts.
Moreover, the Anti-State Trends report has pointed out that Pashtun Tahaffuz Movement (PTM) and its supporters performed a leading role in helping India and Afghanistan to make these trends viral on Twitter.
Read more: SECP Warns Businesses against the Use of Indian and Israeli Cloud Services
For instance, the trend '#BalochistanSolidarityDay' originated from India on 14 August the previous year. PTM and its activists actively promoted this trend against which more than 150,000 Tweets were sent.
India Played a Major Role in Launching Anti-Pakistan Trends
Furthermore, Fawad Chaudhry, the Minister for Information discussed India's involvement in the disinformation campaign. "India's is the biggest hand in the social media trends against Pakistan," he stated, continuing that it employed fake social media accounts for the purpose. "Some 2,000 tweets were posted from Indian accounts over his death," Chaudhry said.
He further spoke of how PTI member Zulfi Bukhari was accused of covertly visiting Israel. "Israel ran a social media trend regarding this which saw 10,000 tweets posted." The information minister said that the PML-N media team and JUI-F "also joined this trend with total enthusiasm".
Source: Geo News