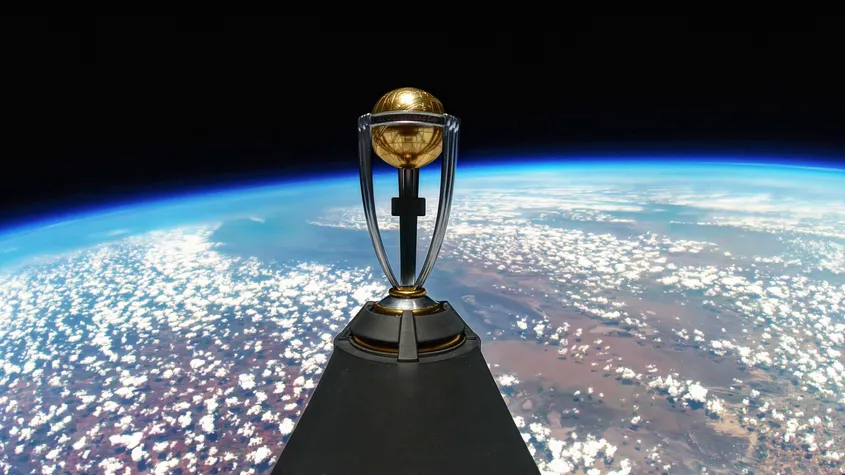 The International Cricket Council (ICC) has kicked off the ICC Men's Cricket World Cup Trophy Tour 2023 in a remarkable fashion by launching the coveted trophy into the stratosphere, reaching a staggering altitude of 120,000 feet above the Earth. This extraordinary ICC World Cup 2023 Trophy Tour marked the beginning of an extensive tour for the iconic trophy, which will travel to 18 countries worldwide, generating excitement and anticipation for the upcoming tournament.
ICC World Cup 2023 Trophy Tour Soars to New Heights
In a captivating display, the ICC Men's Cricket World Cup Trophy was attached to a specially crafted stratospheric balloon and sent soaring beyond the boundaries of the world. After its breathtaking journey through the stratosphere, the trophy gracefully descended and touched down at the revered Narendra Modi Cricket Stadium in Ahmedabad. This grand launch set the stage for the Trophy Tour's commencement, coinciding with the highly anticipated announcement of the World Cup schedule in Mumbai.
Over the coming months, the ICC World Cup 2023 Trophy will embark on a global odyssey, visiting over 20 cities in India and other participating countries, this comprehensive tour will also include a number of emerging nations such as Bahrain, Kuwait, Malaysia, Papua New Guinea, Nigeria, Uganda, France, Italy, and the United States. The tour aims to unite cricket fans worldwide, reigniting the fervor and enthusiasm for the sport after the challenges posed by the COVID-19 pandemic.
A Symbol of Cricket's Glory
BCCI Secretary Jay Shah emphasized that cricket holds a unique place in India, capturing the nation's passion like no other sport. With the World Cup fast approaching, the Trophy Tour provides an incredible opportunity for fans to engage with the event, irrespective of their geographic location. "By extensively traveling throughout India, the tour aims to inspire communities and share the excitement of cricket's greatest spectacle. It also serves as a platform to showcase the country's iconic venues, cities, and landmarks," he said.
ICC Chief Executive Geoff Allardice expressed the significance of the Trophy Tour as a major milestone in the countdown to the largest ICC Men's Cricket World Cup in history. Not only will the tour allow fans to witness the prestigious silverware up close, but it will also facilitate meetings with heads of state, launch community initiatives, and support cricket development programs. The tour will feature visits to renowned landmarks across the globe, amplifying cricket's global reach and the trophy's storied legacy.
Also read: ICC Plans to Shift T20 World Cup 2024 to England