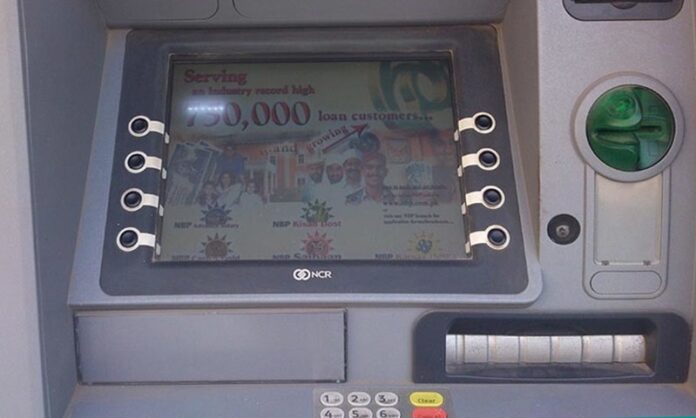 Amid rising Cyberattacks, more than Rs 5.8 million was stolen, by a group of hackers, from an ATM of the National Bank of Pakistan (NBP) located in Pindi Bhattian – a city of Punjab's Hafizabad district. As per sources from the bank, the hackers used a device to compromise the automated teller machine (ATM) system.
Read more: National Bank of Pakistan (NBP) Undergoes a Cyber Attack Causing Disruption in the Services
Rs 5.8 million was stolen by targeting the ATM tray
According to the details provided, a group of hackers targeted the ATM tray that contained the banknotes of Rs. 5,000 denomination by using a device. Sources said that the ATM turned off automatically after its connection was lost from the device that alerted the bank head office. A security guard rushed to the ATM booth, but he found the machine's tray empty.
The bank manager told the media that more than Rs 5.8 million was stolen from the ATM by the hackers, and they managed to flee away. Although, a case has been lodged against unidentified cybercriminals for ATM theft and stealing Rs. 5.8 million cash at the concerned police station. According to Tech Juice, Credible sources have disclosed that the police have referred the case to the Cybercrime Wing (CCW) of the Federal Investigation Agency (FIA) for further investigation. The CCW teams are conducting raids in the city to arrest the culprits as soon as possible. 
Previous cyberattack
Just last month, NBP servers were attacked by a massive cyberattack. The cyberattack impacted the bank's backend systems and affected servers used to interlink the bank's branches, the backend infrastructure controlling the bank's ATM network, and the bank's mobile apps.
Describing the cyberattack, NBP said, "In the late hours of the 29th and early morning of the 30th October, a cyber-attack on the NBP's servers was detected which impacted some of its services. Immediate steps were taken to isolate the affected systems." NBP's teams supported by top IT specialists worked over the course of several days to resolve the issue.
Source: Samaa TV