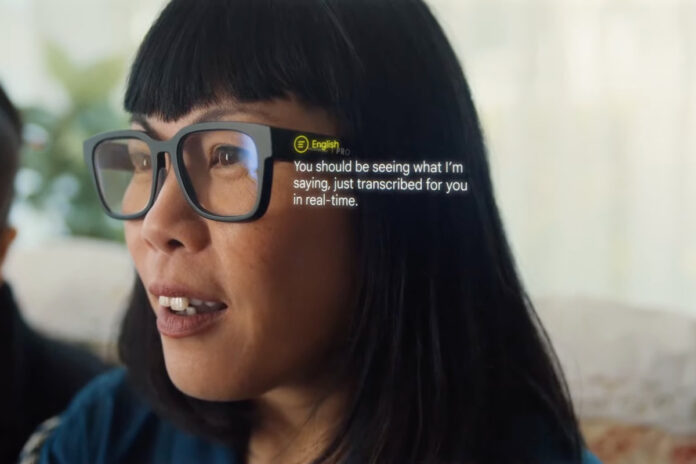 Google is working on its next-generation AR Smart Glasses whose prototype was revealed at Google I/O 2022, the company's annual conference for developers. Google CEO Sundar Pichai demonstrated a video of the company's next-generation AR Smart Glasses during the developer summit.
Google's next-generation AR Smart Glasses translate languages in real-time
Sundar Pichai displayed the prototype of the AR Smart glasses that can translate languages in real-time by showing captions for the user. The video showed a non-English speaker carrying out a conversation with the Google employee with the help of the smart glasses that translated English into Spanish, allowing a non-English speaker to carry out a conversation effectively. However, it's unclear whether or not the glasses will hit the market as it is just the prototype that showcased 'a stimulated point of view'
Sundar said in his keynote address; "Real-time translation is a testament to how knowledge and computing come together to make people's lives better. More people are using Google Translate than ever before, but we still have work to do to make it universally accessible. There's a long tail of languages that are underrepresented on the web today, and translating them is a hard technical problem," He further added; "So with advances in machine learning, we've developed a monolingual approach where the model learns to translate a new language without ever seeing a direct translation of it."
Google's venture into the AR Space
In 2012, Google launched its first pair of smartglasses that didn't perform well due to high pricing and privacy concerns. Later, in 2020, Google acquired an Amazon-backed company called North that specializes in making smart glasses. North is a Canadian company that was formerly known as Thalmic Labs but the company rebranded in 2018 when it launched its holographic smart glasses.
Read more: Meta Reportedly Planning to Launch AR Glasses by 2024