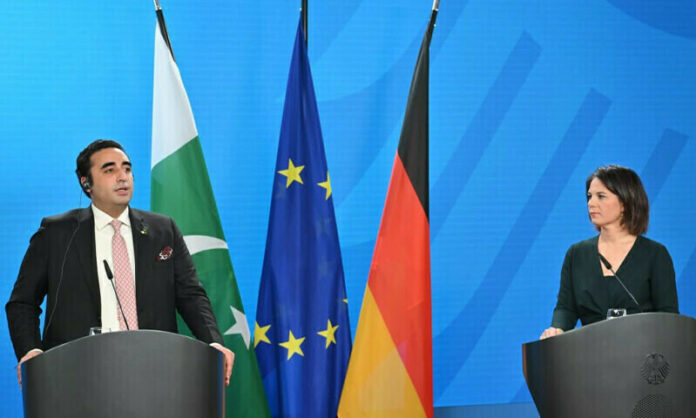 The foreign minister of Germany, Annalena Baerbock, has announced €10m aid for flood affectees of Pakistan. She announced the aid during a joint presser with her Pakistani counterpart Bilawal Bhutto Zardari in Berlin. While highlighting the impact of climate change in Pakistan, she said, "Pakistan is one of the hardest hit countries and pays a high price for global CAT emissions. This is why we will work with all our energies at Cop 27 to achieve a fair distribution of the cost of climate change and the issue of loss and damage."
€56 million Aid Followed by €10m Aid for Flood Affectees
Recently, the German Ambassador to Pakistan, Alfred Grannas, announced financial assistance of fifty-six million euros for flood-affected families in Pakistan. In a tweet, the German Ambassador said, "We will continue to stand by the brave people of Pakistan and extend our help and support during this tragic time."
برلن: وزیر خارجہ بلاول بھٹو زرداری اور جرمنی کی وزیر خارجہ انالینا بیئربوک کے درمیان ملاقات@BBhuttoZardari @ABaerbock pic.twitter.com/aa5m0FzA6w

— PPP (@MediaCellPPP) October 7, 2022
Six days later, the German finance minister announced another €10m aid while sympathizing with the families suffering from devastating floods. She said that the current devastation in Pakistan serves as a reminder to other parts of the world about the devastating consequences of climate change that will impact the nations in a few years.
Bilawal Thanked his German Counterpart for the Aid
Minister for Foreign Affairs Bilawal Bhutto Zardari thanked the German government for helping the flood-affected families in Pakistan. He said that the total amount of aid from Germany had reached 60 million euros. During his meeting with the German counterpart, matters related to climate change, floods, and green energy were discussed.
Pleasure meeting my German counter part @ABaerbock in Berlin. issues of bilat. interest, floods, cooperation on climate, green energy & enhancing econ. ties discussed. Grateful for ?? flood relief assistance. today's announcement of addl. € 10 mil. Taking total to € 60 mil +. pic.twitter.com/o9HpHcrciH

— BilawalBhuttoZardari (@BBhuttoZardari) October 7, 2022
Bilawal said, "We are grateful for the German assistance. But I want to get justice for my people, as the UN says this is a question of justice. Pakistan produces less than 1pc of the global carbon footprint, but we are among the 10 most climate-stressed countries on the planet, and this is unfair that these 33m people are paying in the form of their lives and livelihoods."
Also read: Apple to Donate to Flood Relief Efforts in Pakistan