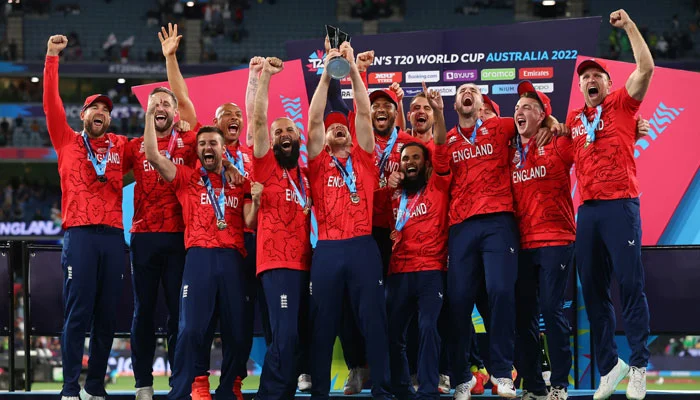 After a thrilling final, Jos Buttler and Co lifted the T20 World Cup 2022 trophy for England by defeating Pakistan by 5 wickets at the Melbourne Cricket Ground and becoming the sport's first dual white-ball champions, holding both the 50 and 20-over titles.
The trophy lift ?

Celebrations with loved ones and our amazing fans ❤️ pic.twitter.com/H2BCdf7j6r

— England Cricket (@englandcricket) November 13, 2022
T20 World Cup 2022: Heart-Broken Pakistani Fans
England's cricket team was always one of the favorites to win the tournament but given the performance of Pakistani cricketers in the last two matches, it became inevitable that the game is going to be a lot more difficult. Although Pakistan was unable to defend the total posted by their batters, but, the team emerged as a fighter towards the end of the tournament. The heartbroken Paksitani fans looked shattered but they were happy and content that the team performed to their full capacity esp, the bowling unit.
A fan explained the problems in the team, be said; "There are problems in Pakistan's batting. Bowlers are world-class. Haris Rauf is a great player, he played well. I am a cricket lover, but Pakistan needs to change its batting order. There are issues with Babar, he does not want to come down. He and Shan Masood can stabilise the innings. You have to hit in powerplay, like 50 runs. Otherwise we are proud of our team." Another fan said; "Bowlers tried to make a comeback. Hopefully, the next World Cup will be ours."
Skipper Opens Up After Pakistan Lost to England
The skipper, Babar Azam, who has been subjected to a lot of criticism and hate, has finally opened up as the tournament comes to an end. The 28-year-old said that the whole unit fought till the last over but unfortunately Shaheen's injury comes at a very big cost, otherwise, the results would have been very different. Harsh Bhigle described the heroism of Pakistan cricket as; "Few teams would have defended 137 the way they did. Best bowling team."
Credit to Pakistan. Few teams would have defended 137 the way they did. Best bowling team.

— Harsha Bhogle (@bhogleharsha) November 13, 2022
Read more: Netizens Believe India Deliberately Under-performed Against South Africa to Keep Pakistan Away From Semi-Finals