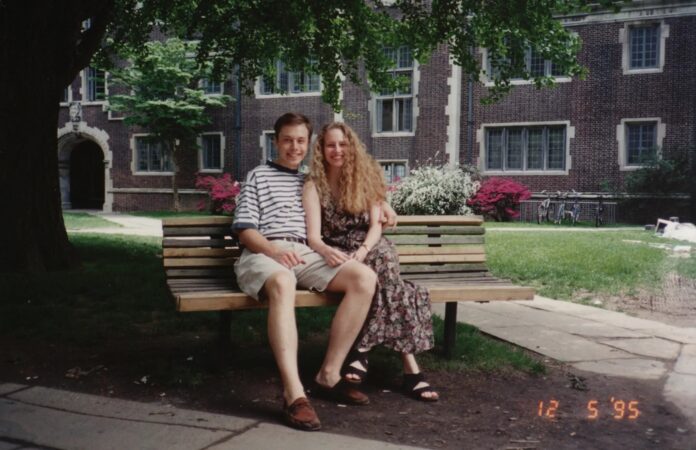 Elon Musk's ex-girlfriend from the 1990s has auctioned her collection of photos and mementos with Musk, who is now the CEO of Tesla, for a whopping $165,000. Jennifer Gwynne and Elon Musk dated from the fall semester of 1994 to 1995 at the University of Pennsylvania; however, they broke up when Musk graduated and moved to California.
Jennifer Gwynne Auctioned Unseen Photos of Elon Musk to Raise Funds for her Stepson's College Tuition
Jennifer Gwynne told a publication that previously, some of Musk's signed test papers were sold at auction for over $7,000, so she got the idea from there and hoped to sell her college days items to raise funds for her stepson's college tuition. Gwynne described Musk as someone peering at the future of electric vehicles back when they were dating.
The photos put up for auction includes:
Musk is lying on a couch while embracing Gwynne, who is cuddling with him
Sightseeing at Niagara Falls and hiking in San Francisco
Dining out with four other classmates at a local restaurant
A dollar bill signed by Musk
The birthday card Musk gave Gwynne in December 1995 reads: "Happy birthday Jennifer (aka Boo Boo). Love, Elon."
Musk is lying down on the floor with his hands behind his head
Musk is wearing a "Judge Dredd" T-shirt paying homage to the comic book character
Elon Musk – The Richest Person Alive
Jennifer said she broke up with Musk just before he started conquering the world. Elon Musk is not only a billionaire entrepreneur but is also the wealthiest person alive. On the Bloomberg Billionaire Index, he ranks first with a net worth of $ 252 billion. He is also on top of the Forbes Rich List with a net worth of $264 billion. Musk owns around 17 percent stake in Tesla. As per Yahoo Finance, Tesla's market cap stood at $1.018 trillion, which means Elon's 17 percent sums up to a little over $170 billion.
Also read: Elon Musk Finally Met his Twitter Friend From India