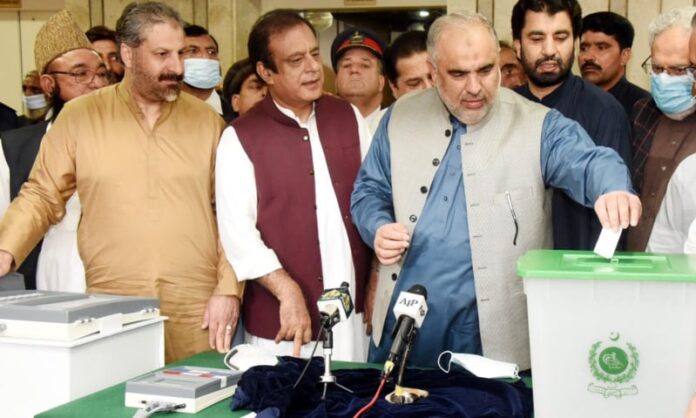 On Wednesday, Shibli Faraz, the Federal Minister for Science and Technology announced that the electronic voting machines (EVMs) could not be hacked and were the most suited solution to the problems of rigging during the elections.
"The machines could not be hacked or riddled with bugs since they were not connected to the internet, dependent on mechanisms such as Bluetooth, WiFi, or an operating system", said the minister while speaking in a media briefing on Wednesday. Moreover, the government had prepared a presentation of Electronic Voting Machines for the legislators. The science minister called upon councilmen to come and inspect the EVM on display to assure themselves.
ECP is the Biggest Stakeholder in Approving Electronic Voting Machines
Shibli Faraz further stated that the machines were made while keeping in view all necessities of the Election Commission of Pakistan. No modifications can be performed in the machine nor any USB can be plugged into it, he continued. The minister also said that the Election Commission of Pakistan (ECP) is the only constitutional system that can choose whether they want to adopt these machines or not. "We are coordinating with the ECP. Before or immediately after Muharram [we will demonstrate EVMs to the ECP], obviously, it's the biggest stakeholder," he said.
Read more: The government of Pakistan will reveal EVM finished production model on 14th August
Shibli Faraz Invites Parliamentarians to inspect EVMs
The Minister of Science also said that the government had tried to incorporate all the requirements of the ECP into the EVMs. On this occasion, the federal minister requested Speaker National Assembly, Asad Qaiser, and other parliamentarians to examine the features of EVM by casting a mock vote.
The said lawmakers witnessed the practical demonstration by casting vote up to the issuance of the results. Qaiser took the matter to Twitter after testing the EVM out for himself, declaring that technological progressions were "crucial" to guarantee transparency in the electoral process and empower democracy.
Source: Geo News