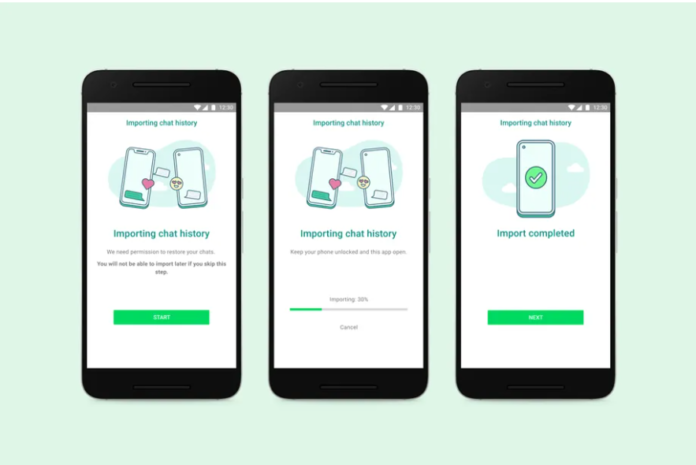 Facebook-owned, WhatsApp is now rolling out a new feature that allows the user to transfer WhatsApp chats between iOS and Android operating systems, but the new WhatsApp chat transfer feature will initially only be available on Samsung's new foldable phones. The option to transfer WhatsApp chats between two operating systems has been one of the most requested features for several years now. 
The latest feature will allow users to transfer their WhatsApp voice notes, photos, and chats securely between devices when they switch between mobile operating systems.
In the past, WhatsApp had been rumored to be acting on such functionality for some time, but the specifics of which devices would be initially supported or when they would be launched were not known.
The company officially launched the latest tool at Samsung's Galaxy Unpacked event and declared Samsung's newest Galaxy foldable devices would get the feature first in the weeks to come. 
Want to securely take your WhatsApp history from one platform to another? We're working to make this possible starting with @SamsungMobile devices, and it's coming to @Android and iOS phones soon.

— Will Cathcart (@wcathcart) August 11, 2021
How to Use the Latest Feature?
To use the option, the users will be required to connect their old and new devices via a USB-C to Lightning cable, and launch Smart Switch. The new phone will then prompt the user to scan a QR code using their previous phone and export their WhatsApp history. To complete the transfer, the user will sign-in on the WhatsApp of the new device and import the messages.
Read more: WhatsApp Rolls out Photo Editing Feature For its Web and Desktop Versions
Securely Transfer WhatsApp Chats from One Operating System to Another
"Your WhatsApp messages belong to you. That's why they are stored on your phone by default, and not accessible in the cloud-like many other messaging services," noted Sandeep Paruchuri, product manager at WhatsApp, in a statement about the launch. "We're excited for the first time to make it easy for people to securely transfer their WhatsApp history from one operating system to another. This has been one of our most requested features from users for years and we worked together with operating systems and device manufacturers to solve it," he added.
Source: The Verge