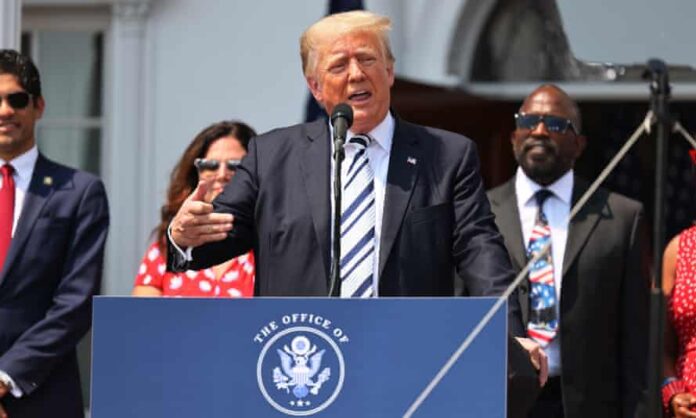 Former US President Donald Trump has requested a federal judge to reinstate his Twitter account, as per a court document filed Friday. "Defendant exercises a degree of power and control over political discourse in this country that is immeasurable, historically unprecedented, and profoundly dangerous to open democratic debate," Trump's lawyers write about Twitter.
Is Biden's Government Pressurizing the Social Media Platforms?
Donald Trump's lawyers declare Democrats in Congress and the Biden administration have pressed the social media firm to keep Trump's Twitter account banned, following his remarks about unproven election fraud and to fight Covid-19 misinformation.
Donald Trump Sued Twitter and its CEO Jack Dorsey 
The lawyers of Donald Trumps further pointed out that though he was permanently barred from Twitter on January 8, before the completion of his presidency, for promoting violence after the Capitol insurrection, Twitter has provided the Taliban's state in Afghanistan to maintain an account. Donald Trump sued Twitter and its CEO, Jack Dorsey, in July. Trump's team has debated his address is being unjustly censored.
Furthermore, Trump's team months ago informed the court it would ask for an injunction against Twitter for the prompt reinstatement of his Twitter account. However, lawyers had not made the filing until now that could prompt quicker action by the judge, Robert Scola, Jr. of the federal court in Miami. Although, the popular microblogging platform, has not formally responded in court yet.
Read more: Twitter to roll-out 'Twitter for Professionals' for businesses and creators
Twitter permanently forbade @RealDonaldTrump in January, two days after the violent January 6th riot at the Capitol building by pro-Trump advocates trying to block the certification of Joe Biden's success in the 2020 presidential election. Twitter at first put a 12-hour limitation on the former president's account for "repeated and severe violations of our Civic Integrity policy" after he posted tweets parroting lies that the election was stolen. The platform made the ban permanent two days later. Other social media platforms, including Facebook, Snapchat and YouTube, also banned the former president after the January 6th disorders. Facebook's Oversight Board later confirmed that platform's decision.
Trump Had Nearly 88 Million Followers on the Platform
In the recent Friday filing, Donald Trump claims that his Twitter account "became an important source of news and information about government affairs and was a digital town hall," where the former president posted his views. At the time of the ban, Trump had 88 million Twitter followers. Twitter further censored him during his presidency, Trump claims, by identifying some of his tweets as "misleading information," which the platform said broke its rules against "glorifying violence." 
Source: The Verge