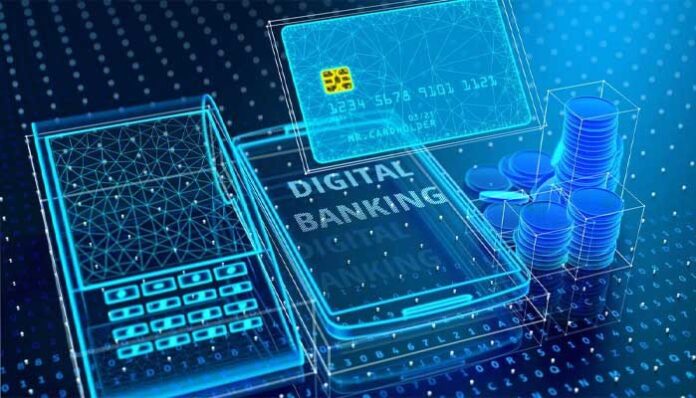 The State Bank of Pakistan released its second quarterly report on payment systems for the fiscal year 2021-22 for the period Oct-Dec 202 covering the period October – December 2021. According to SBP, the overall digital banking transactions volume grew by 10.7% to 400mn whereas value by 22.8% to over Rs33tn. During CY2021 volume increased by 41% to 1.4bn and value by 45% to Rs106tn.
The strong growth of e-banking in Pakistan
The report mentioned that, while the volume of digital banking transactions was almost four times higher at 400 million than paper-based transactions at 101.4 million, the value of transactions of the former stands at Rs33.4 trillion compared with Rs41.6 trillion paper-based transactions. Moreover,  there were 5.4% more cards than the preceding quarter, reaching 48.6 million cards in circulation which mainly composed of Debit Cards (63.5%), Social Welfare, cards (22.8%), ATM only cards (9.9%), Credit Cards (3.6%), and Prepaid Cards (0.3%).
The SBP mentioned that the all around growth in digital banking included expansion in both mobile and internet banking, with a double-digit increase in value and volume of transactions during the second quarter. The number of mobile banking transactions amounted to 94 million, while the value reached Rs 2.2 trillion, which comes to 18.8% and 35.4% growth respectively on QoQ basis. Meanwhile, the number of mobile banking users grew by 5% on QoQ basis, reaching a total of 11.9 million users. Likewise, the number of e-Commerce merchants also increased by 32.6% reaching a total of 3,968.
The adoption of digital banking in Pakistan
Covid-19 has prompted a strong shift in behavior of customers towards digital banking in Pakistan. Though Pakistan still heavily relies on cash transactions with customer preference remaining on COD (Cash on delivery) options, the trend of digital payments used by internet users indicate a promising future for Digital Banking in Pakistan. The State Bank of Pakistan has added its support by announcing regulatory relief measures to support branchless transactions, and the GoP's relief package was also disbursed through mobile and other digital modes to discourage the use of cash.
Read more: SBP's Foreign Exchange Reserves Witness an Outflow of $869 Million in One Week