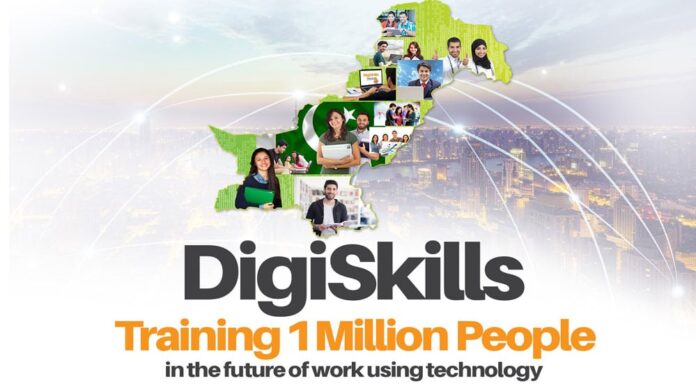 Since its launch in 2018, the DigiSkills program has been a transformative force, empowering countless Pakistani citizens with essential digital skills. This visionary initiative, under the patronage of the Ministry of IT and Telecom, offers 15 diverse courses completely free of charge. As a testament to its success, DigiSkills is now accepting registrations for Batch-6, providing a golden opportunity for individuals to enhance their digital proficiency. With an impressive allocation of over 250,000 seats, the program reaffirms its commitment to fostering a digitally adept Pakistan.
DigiSkills Offer A Multitude of Learning Opportunities
DigiSkills continues to be a beacon of digital education, allowing applicants to enroll in two different courses simultaneously. However, first-time registrants are required to commence their journey with the Freelancing course, an essential foundation for digital entrepreneurship. Beyond this mandatory course, participants have the freedom to choose their second course from a diverse range of offerings. Importantly, individuals who have previously participated in DigiSkills batches are also eligible to explore new courses, fostering continuous learning.
Courses Offered – DigiSkills presents an array of 15 courses that encompass a wide spectrum of digital skills, including Freelancing, Digital Marketing, Graphic Design, Video Editing, Animation, Vlogging, SEO, WordPress, Communication Skills, Virtual Assistance, Affiliate Marketing, Creative Writing, E-Commerce Management, Data Analytics, Digital Literacy, and QuickBooks. These courses, typically offered at high costs by local instructors, are now accessible to all, making digital education affordable and inclusive.
Simple Steps to Enroll
The registration process for DigiSkills Batch-6 is straightforward, ensuring accessibility for all. In the initial step, prospective learners can visit the DigiSkills website, where they must register using a valid email address and complete their profile. The final step involves logging into the DigiSkills.pk Learning Management System (LMS) account and enrolling in two courses by clicking on 'Enroll Now (DSTP 2.0 – Batch-06).' With this seamless process, individuals can begin their digital learning journey.
Also read: World is Acknowledging IT Skills of Pakistani Youth; Says IT Minister