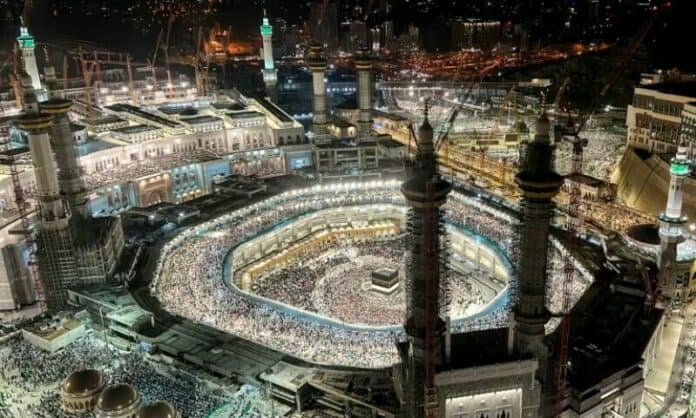 The largest Hajj pilgrimage in history has commenced in Makkah, Saudi Arabia, as millions of Muslims from around the world gather to embark on the religious journey. The annual pilgrimage began with the circling of the Kaaba, the holiest site in Islam, marking the start of an event that is anticipated to break attendance records. Islam's most sacred site is expected to host more than two million pilgrims from 160 countries.
Historic Attendance at the Largest Hajj Pilgrimage
"This year, we will witness the largest Hajj pilgrimage in history," stated an official from the Saudi Ministry of Hajj and Umrah, reflecting the magnitude of this year's gathering. With the relaxation of coronavirus pandemic restrictions, more than 2.5 million Muslims are expected to participate in the Hajj, surpassing previous records.
In comparison, the Hajj in 2020 was limited to only 10,000 people, followed by 59,000 participants in 2021. Last year, a cap of one million people was set due to the pandemic. Saudi businessman Samir al-Zafni said all his hotels in Makkah and Madinah are at full capacity until the first week of July. "This year there is not a single vacant bed in our group of 67 hotels," he said.
Challenges and Preparation
The 2023 Hajj poses unique challenges as it takes place amidst scorching temperatures reaching nearly 45 degrees Celsius (113 degrees Fahrenheit). Pilgrims will journey from Makkah's Grand Mosque to Mina, located approximately 8 kilometers (5 miles) away, and then gather at Mount Arafat, where Prophet Muhammad delivered his final sermon.
To ensure the well-being of participants, Saudi authorities have deployed more than 32,000 health workers and arranged thousands of ambulances to address cases of heatstroke, dehydration, and exhaustion. Mina has been prepared to accommodate the pilgrims, with ample food supplies and heightened security measures.
It should be noted that the Hajj pilgrimage is a profoundly significant and obligatory ritual for every financially capable Muslim adult. It serves as one of the five pillars of Islam and holds immense spiritual and purifying value. The physically and emotionally demanding journey allows participants to seek forgiveness, cleanse themselves of sins, and forge a closer connection with God.
Also read: Performing Hajj on Metaverse Cannot Be Considered Real Hajj: Turkish Religious Affair Presidency