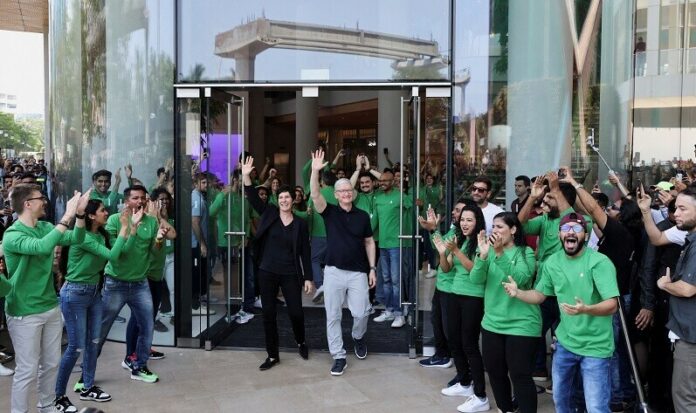 Apple has opened its first retail store in India, marking a major milestone for the company as it seeks to expand its presence in the world's second-largest smartphone market. The first Apple store in India, located in the financial capital of Mumbai, covers over 20,000 square feet and offers customers the full range of Apple products, including the iPhone, iPad, and Mac. "India has such a beautiful culture and an incredible energy, and we're excited to build on our long-standing history," Apple CEO Tim Cook said in a press release.
More Details On the First Apple Store in India
The opening of the Mumbai store is expected to be a major boost for Apple's efforts to expand its presence in India, which is now one of the world's fastest-growing smartphone markets. The store is designed to be one of the most energy-efficient Apple Store locations in the world, with a dedicated solar array and zero reliance on fossil fuels for store operations. The store is operationally carbon neutral, running on 100 percent renewable energy.
The store features more than 100 team members who collectively speak over 20 languages. They're ready to welcome customers from around the world, helping them learn about Apple products and offering advice on the best options. Over the last couple of years, Apple has been closely monitoring and working on the Indian market, including the establishment of a new manufacturing facility in Bengaluru and the launch of a number of initiatives aimed at boosting sales and brand awareness.
Fan Carried Vintage Apple Computer
An Apple fan named Sajid was seen carrying a vintage Apple computer – Macintosh SE. He said he had bought it in 1984. "I brought this just to show Apple's journey. I bought this in 1984, and since then, have been using Apple products. This is a 2 Megabytes, black and white computer but now Apple is making 4K, even 8K, resolution displays, so Apple has come a long way," said the fan.
Also read: Apple CEO Tim Cook to Receive a 40% Pay cut Amid Shareholders' Criticism