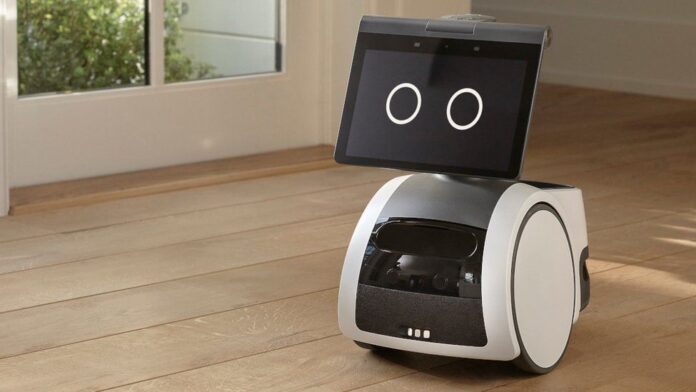 Amazon has rolled out its much-awaited home robot called Astro that can autonomously maneuver around your home packed with cameras and a screen. Home robot Astro can map home's layout, identify objects and check on loved ones and pets remotely employing a series of cameras and a display on its front, starring a set of expressive animated eyes.
Amazon's Home Robot Astro is Alexa on Wheels 
The home robot can manage video calls, recognizing you and coming to find you when someone calls and presents all the features of Alexa on wheels. However, Dave Limp, head of Amazon's devices and services, stated "customers don't just want Alexa on wheels so we've embodied it with a unique persona that's all its own".
The retail giant, Amazon has suggested that the $999.99 (£740) home robot could assist the elderly members of the house. "Astro is a bold move by Amazon, but a logical step given its expertise in robots and desire to become more integrated into consumers' daily lives," said Ben Wood, chief analyst at CCS Insight.
Amazon's New Product is Something from Science Fiction Novel
Furthermore, unlike some rivals, Amazon is prepared to bring highly experimental products to customers and see how they react, he said. "Offering products resembling something from a science fiction novel positions Amazon as an innovative company in the eyes of consumers and investors," he said.
Read more: Amazon is Close to Launching its own Alexa-Integrated TV in the United States
The home robot Astro will ship later this year, Amazon said – but only in the US. And after the opening, limited run, its price will go up to $1,449.99, it said. "I believe the Astro home robot will sell out in minutes when it becomes available in the US market," Mr. Wood said. "I'm just gutted that it won't be shipping in the UK in the foreseeable future."
Amazon's product Astro reaches about two feet high and weighs about 20 pounds. Its main drive wheels are about 12 inches in diameter, large enough to move past door thresholds and move through the carpet, while a single caster in the back helps it keep balanced. 
Source: The Verge