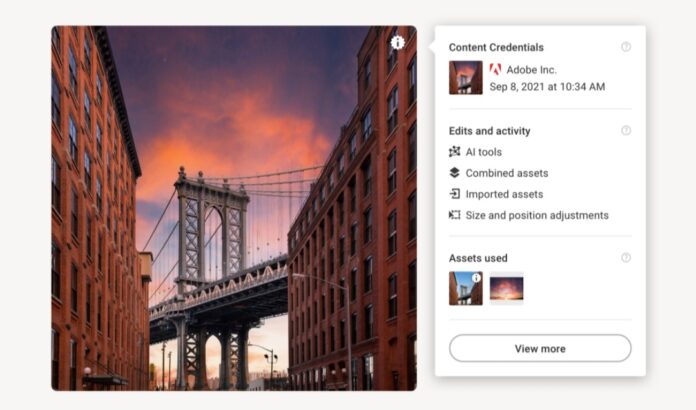 In the recent news, Adobe is announcing the launch of a three-part open source toolkit to mitigate the spread of visual misinformation. Adobe's new open source toolkit comprises a JavaScript SDK for building ways to display the content credentials in browsers, a command line utility and a Rust SDK for developing desktop apps, mobile apps and other experiences to create, view and verify embedded content credentials.
The New Open Source Toolkit Will Provide File's Creation Details
As EXIF data stores details about aperture and shutter speed, the new open source toolkit also records information about a file's creation, including how it was made and edited. And if the company's shared vision comes to pass, that metadata, which Adobe refers to as "content credentials," would then be widely viewable across social media platforms, image editors and news sites.
"Detection [for misinformation] is going to be an arms race, and, you know, frankly, the good guys will lose," stated Andy Parsons, senior director of Adobe's Content Authenticity Initiative (CAI). "We endeavored instead to double down on content authenticity, which is this idea of proving what's real, how something was made, in cases where it makes sense, who made it."
The underlying standard, C2PA, is the result of a collaboration between Adobe's CAI and partners including Microsoft, Sony, Intel, Twitter and the BBC. The Wall Street Journal, Nikon and the Associated Press have also recently joined Adobe's commitment to make content authentication widespread and curb visualmisinformation.
Social Media Will be Free of Visual Misinformation
With the new open source toolkit, a social media platform could plug in the Adobe-provided JavaScript and quickly have all of its images and videos displaying the content credentials, which appear as a mouse-over icon in the upper-right corner. That implementation could take a couple of developers a few weeks instead of requiring a dedicated team and a larger software buildout.
Getting social platforms on board begins with convincing those companies to keep the content credentials intact. "Once applications and websites and platforms start preserving it, then you know, downstream consumers who might download something off the Instagram website, or who might share something on WhatsApp will know that the data exists," Parsons said. "And then we think it's a matter of time, as a matter of that snowball effect, so that folks will show it. There's really no downside."
Read more: Adobe Launches a New Graphic Designing App Called 'Creative Cloud Express'