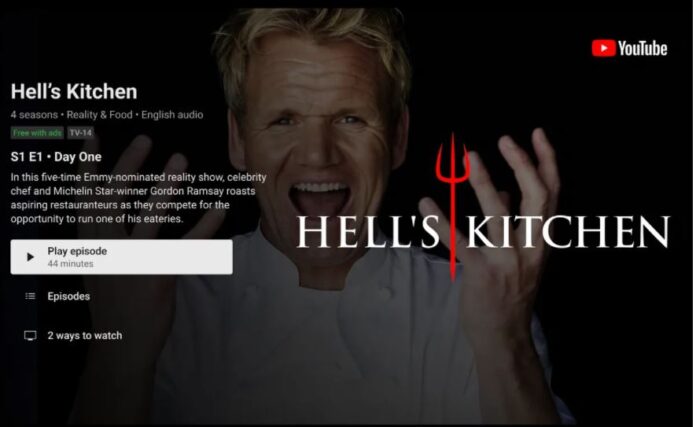 In the recent news, YouTube has announced that it will for the first time stream free ad-supported TV shows — a move that places it into more direct competition with the increasing number of free streaming services on the market, such as Tubi, Pluto TV, The Roku Channel, IMDb TV, Xumo, Plex, and NBCU's Peacock. The company stated that it will initially offer its U.S. users access to more than 4,000 free TV episodes from shows including "Hell's Kitchen," "Andromeda," "Heartland" and others. 
YouTube Plans to Add Up to 100 More Titles Each Week
YouTube plans to add up to 100 more titles each week, including both shows and movies, to its free streaming collection. YouTube is already home to a number of free, ad-supported TV shows and movies, so the launch of free TV is more of a development of its existing free streaming efforts, rather than something completely new for the company. Currently, YouTube hosts more than 1,500 movies from companies like Disney Media & Entertainment Distribution, Warner Bros., Paramount Pictures, Lionsgate, FilmRise, and others. 
YouTube is Adding New TV Shows and Movies for Users to Stream Free Ad-Supported Content 
In the present month, YouTube has added new movies like Gone in Sixty Seconds, Runaway Bride, and Legally Blonde, among others for users to stream free ad-supported TV shows and movies. According to data from Kantar, 85% of U.S. households have a video subscription, but quarterly gain comes from free ad-supported TV and ad-supported video-on-demand services. 
Furthermore, YouTube says that it will now introduce new navigation and immersive banner art that will enable users to choose how they want to watch — either via rental or purchase, as before, or free with ads, when available. The commercial breaks, meanwhile, will vary in frequency by viewers and the context in which they're watching shows, YouTube says. Most of the ads are sold through the YouTube Select program.
Read more: Russia Tells YouTube to Stop Running 'Anti-Russian' Ads
Source: TechCrunch