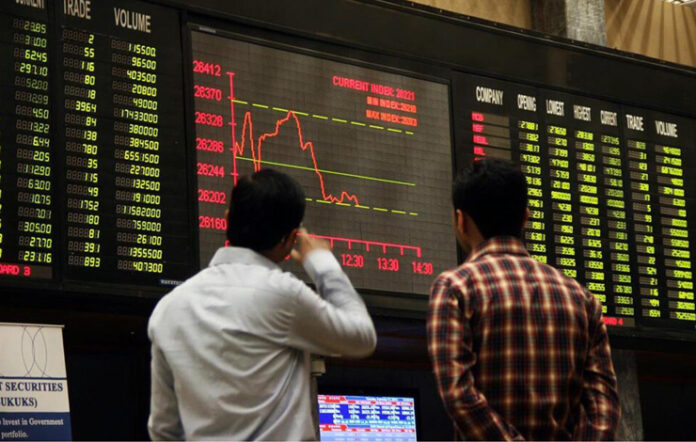 Pakistan Stock Exchange (PSX) lost over 550 points in intraday trading after former Prime Minister Imran Khan was arrested at Islamabad High Court. The benchmark KSE-100 Index plunged by 455.68 points or 1.09 percent. As per analysts, the market opened with depressive sentiments and further tumbled following the arrest of the former prime minister Imran Khan.
Bloodbath Session Recorded at Pakistan Stock Exchange
According to Capital Stake, the sectors that dived KSE 100 towards a negative zone included Commercial Banks (down 109.5 points), E&P (down 78.3 points), Fertilizer (down 56.3 points), Inv. Banks / Inv. Cos. / Securities Cos. (down 36.7 points) and Technology & Communication (down 33.1 points). The companies contributing to the performance included; Habib Bank Limited (HBL 59.94 points), Dawood Hercules Corporation Limited (DAWH 35.26 points), and Oil and Gas Development Company Limited (OGDC 33.11 points).
BRIndex100 decreased by 53.4 points to close at 4,189.41 points with a total daily turnover of 178.863 million shares, while, the BRIndex30 declined by 206.18 points to close at 14,574.28 points with a total daily trading volume of 120.311 million shares. Fazal Cloth and Mari Petroleum were the top losers declining by Rs 10.76 and Rs 9.58 respectively to close at Rs 135.91 and Rs 1550.74. "A bloodbath session was recorded at the PSX following the political turmoil in the country," an analyst at Arif Habib Limited said.
Investors Adopted Watch-and-Wait Policy
As per details, after Imran Khan's arrest at around 12:00 noon, the market recorded its worst decline, causing investors to adopt a watch-and-wait policy. Economists attribute investors' hesitation to sell shares due to the pending agreement with the IMF and the current political scenario in the country. The experts believe that the worst downturn can be recorded in the coming days if the political unrest continues.
Also read: KSE-100 Index Crashes After the Announcement of Super Tax on Industries