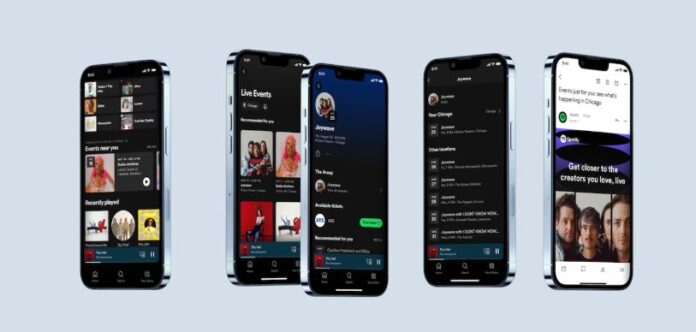 Spotify is now introducing a new feature 'Live Events Feed' that will improve the in-app concert discovery for users. The music streaming service announced that the company is replacing its in-app Concert Hub with the Live Events Feed that will allow users to find favorite artists' events in users' nearby areas in a way that's personalized to their own interests.
The Live Events Feed Will Keep Users Updated With the Upcoming Concerts' Details 
The new Live Events Feed continues to be powered by Spotify's existing ticketing partnerships, which had earlier fed listings into the Concert Hub. The company works with Ticketmaster, AXS, DICE, Eventbrite, See Tickets, and others to help source the event listings and direct users to purchase their tickets. "Ultimately, our goal is to ensure that fans are aware of all of the upcoming events by the creators they love and creators they may come to love," said René Volker, senior director of Live Events, in the announcement. 
He further stated about improving in-app concert discovery, "We believe if we get that right, then we can get more fans to more shows and help artists and venues have better-filled rooms. We'd love to be a part of helping the live music industry recover and, even more importantly to us, helping to grow it in the years to come."
The Improved In-App Concert Discovery Will Also Include Artist Imageries 
The updated Live Events Feed looks a bit different from the Concert Hub, the company notes. It now comprises artist imagery, instead of just the calendar icon that showed the date and show information. When you tap into a particular show, users can also see the concert lineup along with other event details, a link to purchase tickets, and other music recommendations. Spotify says it's also introduced a new messaging tool, which will alert fans to personalized recommendations about live events based on their listening habits. Fans can control this experience by setting their notification preferences.
Read more: Spotify Will Now Slow Hiring by 25 Percent, Says CEO Daniel Ek