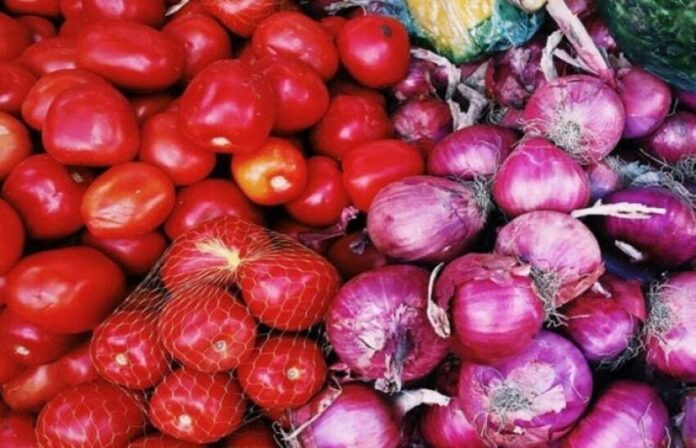 The rising prices of onions and tomatoes have considerably declined as the trucks arrived from Afghanistan and Iraq carrying the vegetables. According to the sources from the vegetable market, over 50 trailers of tomatoes and 70 trailers of imported onions have reached Karachi's market. The imported have said that the permits for the import of more than 1,150 tonnes of tomatoes and onions have been issued till now.
New Prices of Onions and Tomatoes
Sources privy to the matter have confirmed that the prices of onions and tomatoes have declined since the arrival of the trucks in the vegetable market. The prices of onion and tomatoes are decreased by Rs100 and Rs120 in the vegetable market, respectively. While onions are being sold at Rs50 per kg while tomatoes are at Rs 100 per kg in the wholesale market.
Earlier, Commerce Minister Naveed Qamar told the Senate committee on commerce that the government has not yet decided about the import of onions and tomatoes from India, however, the vegetables will be imported through private companies from Iran and Afghanistan. The decision was taken to control the rising prices of commodities in the country after floods completely damaged crops across the country.
Also read: Pakistan to Import Onions and Tomatoes from Iran and Afghanistan
Flooding Inflicts $10 Billion Losses in Pakistan
The devastating floods have cost around $10 billion to the country with Sindh suffering estimated damage of over $1.6 billion as all major crops have been destroyed. Sindh CM Adviser on Agriculture Manzoor Wassan said that almost the entire cotton crop standing on over 1.4 million acres, rice standing on 602,120 acres, and dates on 101,379 acres had been destroyed. He further added that almost 50 percent of other crops of sesame, tomato, chili, Kharif vegetables, and onion had also been destroyed. Manzoor Wassan said; "We are with people and we can't leave them alone on these hard days."