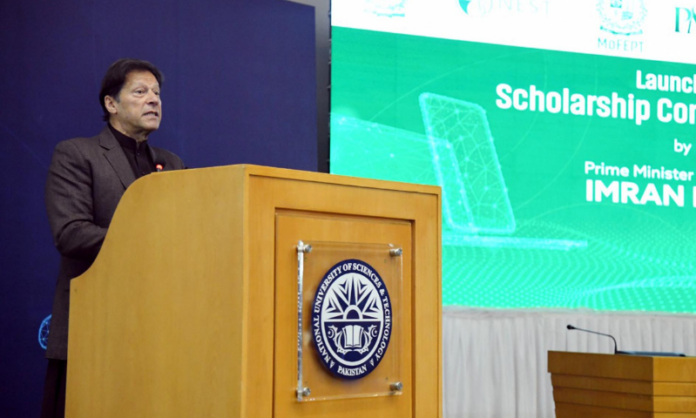 On Thursday, Prime Minister Imran Khan launched a portal to exclusively register complaints about scholarships which, he believed, would ensure meritocracy, transparency and uplift the students with more enthusiasm and drive.
PM Imran Khan Launches a Portal Registering Complaints About Scholarships
"When we came into power, we did not know how many types of scholarships were being given in the country because it was difficult to ascertain that after the 18th Amendment which department was granting which educational scholarships," he stated while speaking at the inauguration ceremony of the portal registering complaints about scholarships.
"Currently, the federal and provincial governments, Ehsaas program and the Higher Education Commission are giving different categories of scholarships and we are trying to centralize them to avoid problems to students and use these scholarships efficiently for the prosperity of the country," the prime minister added.
"Through scholarships, we can decide the future course of the country's development. The purpose of the education system should be nation-building. The subjects (being taught) should have a connection with nation-building…considering the technological revolution," he further added on the matter of registering complaints about scholarships. 
Read more: Bill Gates Meets Prime Minister Imran Khan During His First Visit to Pakistan
Furthermore, PM Imran Khan also claimed that the 18th Amendment has messed up the procedure of awarding educational scholarships to meritorious students. Linked with the Prime Minister's Citizen Portal, the portal registering complaints about scholarships would assist scholarship holders to register their objections concerning problems encountered by them, besides securing the judicious use of allocated resources.
Government is Spending PKR 28B to Support the Education of Deserving Students  
Furthermore, it was informed that currently, the government was spending Rs28 billion to support the education of deserving and talented students. The beneficiaries comprise about 2.6 million students, with 72 percent of them being female students. PM Imran Khan further stated that a team of academics would constantly supervise the portal and guide the government to grant scholarships in certain subjects keeping in view the needs of the market as well as the country.
Source: Dawn