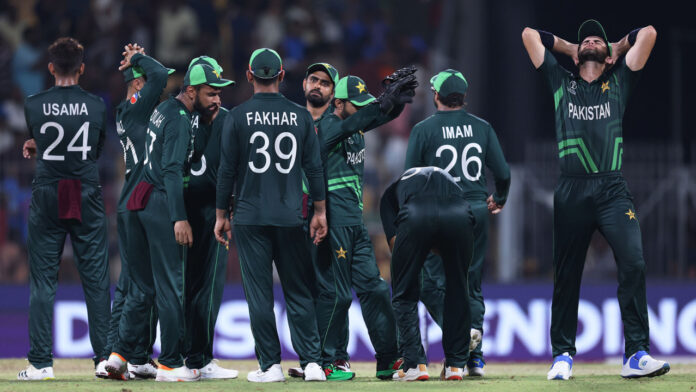 Pakistan's journey to secure a spot in the ODI World Cup 2023 semifinals faces an ominous forecast with a 68% chance of rain in Bangalore on the day of their crucial match against New Zealand. As they gear up for this pivotal showdown, the uncertainty of weather conditions adds an extra layer of complexity to their quest for victory, and Pakistan's semifinal aspirations hang by a thread.
Uncertain Skies Cast a Shadow on Pakistan's Semifinal Aspirations
The forthcoming match scheduled for November 4th in Bangalore carries immense importance for Pakistan's World Cup campaign. With their eyes set on a semifinal berth, the team cannot afford any missteps. However, the foreboding 68% chance of rain hangs over the contest like a dark cloud, threatening to disrupt their crucial encounter with New Zealand.
As Pakistan competes for a coveted place among the top four teams, there's no room for error in this crucial match. The ominous rain threat poses a significant risk, with the potential to influence the match's result. In a scenario where Pakistan must maximize their points, a rain-induced washout or a match with reduced overs could deal a severe blow to their aspirations.
The Need for Resilience and Victory
In a tournament where every point matters, the prospect of a rain-affected game or a washout could severely dent Pakistan's aspirations. To secure their place in the semifinals, Pakistan must display top-notch performance and unwavering determination on the field. As cricket enthusiasts eagerly anticipate this showdown, all hopes are pinned on Pakistan's ability to not only conquer their opponents but also the capricious weather of Bangalore, ensuring they emerge victorious and inch closer to their semifinal dream. The challenge is not just New Zealand; it's also the unpredictability of the elements that makes this match a true test of Pakistan's resilience and adaptability.
Also read: Pak Vs SA: ICC Acknowledges Error in Controversial Rassie van der Dussen DRS