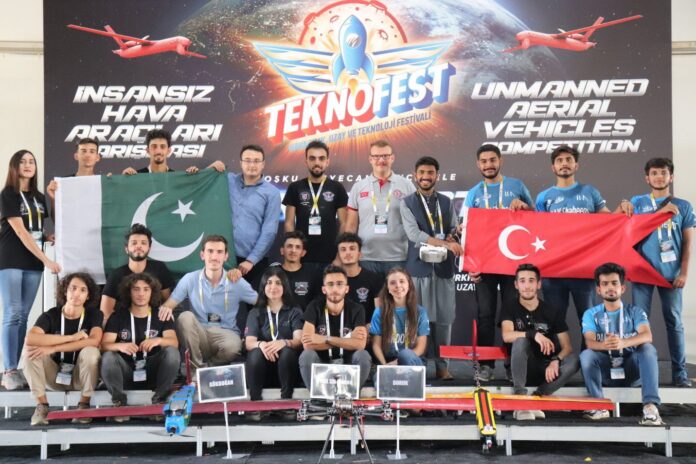 Recently, a team of nine Pakistani students from the Institute of Space Technology, Islamabad has succeeded to win the first position in a drone competition of the International Free Mission UAV Competition at Turkey's eminent Aerospace and Technology festival (TEKNOFEST).
Nearly 240 Teams Participated from All Over the World in TEKNOFEST
The drone competition, TEKNOFEST was organized in Bursa this year where over 240 teams from more than 85 nations participated. Being the pioneer institute of Pakistan in Aerospace Science and Engineering, IST competed in the event as well. *Pakistani students were rewarded
Pakistani Students Were Rewarded with a 36,000 Turkish Lira Cash Prize
The team of Pakistani students won the first spot in the silver category and further acquired the fourth spot in the overall competition of TEKNOFEST. The IST team was also rewarded with a cash prize of 36,000 Turkish Lira. The said team of Pakistani students, in the drone competition developed an Artificial Intelligence-based conquering solution for Human Search and Rescue operations through a swarm of Unmanned Aerial Vehicles.
IST Students Win 1st position in International Free Mission UAV Competition at Turkey's TEKNOFEST pic.twitter.com/XBUxh7t413

— Institute of Space Technology (@ISTIslamabad) October 7, 2021
Furthermore, the UAVs designed by the team of Pakistani students in TEKNOFEST were particularly created for optimized path outlining and human detection in post-disaster situations. Intelligent UAVs have the capability to scrutinize a disaster area for injured civilians from a height of 30-50 meters. These UAVs offer high-level solutions for search and rescue purposes.
Drones are Cost-Effective and Compact
The Pakistani-developed drones are cost-effective and compact and were described as an extremely efficient solution, compared to the traditional helicopter plan for rescue missions. The drone competition, TEKNOFEST was hosted by the Republic of Turkeys' Ministry of Industry and Technology. It is one of the world's biggest Aerospace events and hosts a variety of activities every year, including technology competitions, air shows, and interviews.
Read more: Pakistan's First-Ever Internet Powered Village Established in Pakpattan
Source: Mashable