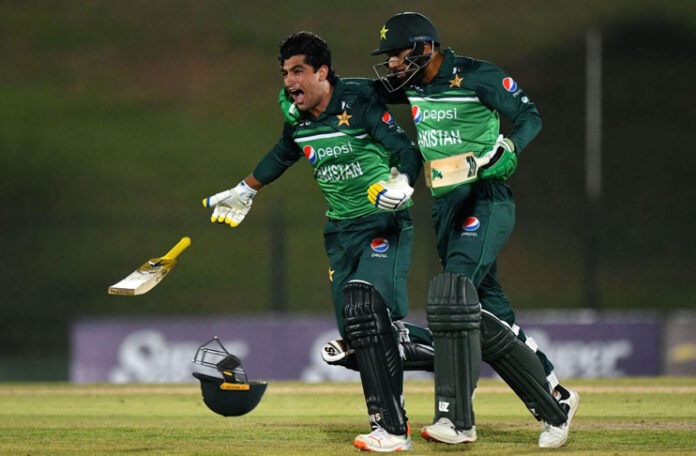 Naseem Shah showcased his brilliance again, leading Pakistan to a triumphant series win of 2-0. Despite a Mankad controversy involving Shadab Khan, Pakistan's cricketing prowess proved too formidable for Afghanistan to overcome. This thrilling encounter not only showcased Pakistan's resilience but also stirred debates over fair play in the cricketing community.
Shadab Khan's Resilience Amidst Mankad Controversy
Pakistan's pursuit of victory against Afghanistan was marred by a Mankad attempt that targeted the pivotal batsman, Shadab Khan. As the match approached its nail-biting conclusion, Shadab's dynamic innings of 48 runs from 35 balls injected energy into the team's chase of 300 runs. However, a dramatic twist unfolded when he fell victim to the Mankad maneuver by Fazalhaq Farooqi, igniting discussions on the ethics and legitimacy of such tactics. Shadab's sportsmanlike response to the contentious situation illustrated his maturity and dedication to the game.
Naseem Shah Heroics Seal Historic Victory
With the game hanging in the balance and only one wicket remaining, Naseem Shah emerged as the hero of the moment for Pakistan. His remarkable strikes, including two crucial fours, propelled Pakistan to an unprecedented victory by achieving a 300-run chase with just one ball to spare.
This performance mirrored Naseem's history of delivering under pressure against Afghanistan. His resilient efforts not only secured the series win but also highlighted his composure and skill in tense situations. Shadab Khan's all-around excellence earned him the recognition of "Player of the Match," while Naseem Shah's crucial contributions cemented his title as the "Player of the Moment."
Also read: India-Pakistan Row: Sri Lanka Emerges as Potential Venue for Asia Cup 2023