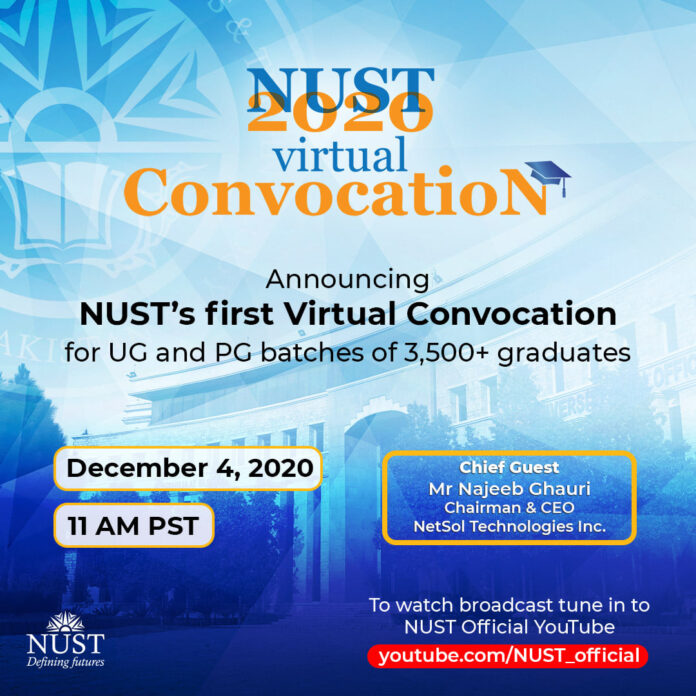 Pakistan's public sector university NUST is holding its first virtual convocation. The convocation will be broadcast at 11 AM PST on December 4, 2020, at the NUST Official YouTube Channel . The official Facebook page of the university made an announcement on November 28, 2020 which reads
Graduating Class of 2020, mark your calendars for December 4, 2020!
With love and care at its core, our commitment to the safety of our NUST Family continues with the biggest celebration of the year.
NUST's first Virtual Convocation will witness the graduation of more than 3,500 students, who have successfully completed their Undergraduate and Postgraduate programmes.
The convocation will be broadcast at 11 AM PST on December 4, 2020, at the NUST Official YouTube Channel youtube.com/c/NUSTOfficial
Each constituent institution is having a separate virtual graduation ceremony. Tune in to our YouTube channel at the time and date given above, and browse to find your very own virtual graduation ceremony.
Announcements are being made on the NUST website nust.edu.pk and NUST social media platforms — Facebook NUST, Twitter twitter.com/Official_NUST and LinkedIn linkedin.com/school/551751/
The Chief Guest for Virtual Convocation 2020 is Mr Najeeb Ghauri, Chairman & CEO of Pakistan's largest IT company, NETSOL Technologies Limited. A long-standing partner of NUST, Mr Ghauri has been supporting our development initiatives since 2017, and is also a member of the Board of Trustees NUST Trust Fund (NTF).
Amidst the pandemic, let us all come together in understanding the perils and the challenges it brings, and find joy in the "new normal" – for life must go on, and the resolve of NUSTians is certainly, and very proudly, #StrongerThanCOVID19
#NUST #DefiningFutures #N2020 #VirtualConvocation2020 #ClassOf2020.
The measure has been taken keeping in view the ongoing pandemic situation around the country. The university administration believes that holding NUST virtual convocation will ensure the safety of participants and will be an effective measure to stop the spread of corona virus.
Image Credit : NUST Social Media Page
News Source : NUST Social Media Page
Read More : NUST positioned at #76 in QS 2021 rankings for the Universities in Asia