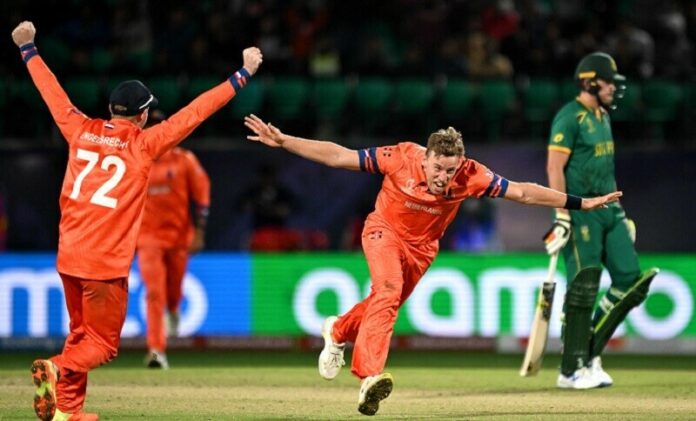 The Netherlands, including a team of semi-professionals and an Uber Eats delivery boy, delivered the World Cup's second major upset in three days by defeating an in-form South Africa. Netherlands beat SA to gain an unexpected victory, which unfolded in challenging conditions after rain reduced the match to 43 overs per side, setting the stage for an unexpected Dutch victory, leaving the cricket fans in awe.
Dutch Captain's Heroics and a Memorable Recovery
Facing a daunting South African team, the Netherlands found themselves struggling at 140 for seven, seemingly headed for a modest total. However, Dutch captain Scott Edwards orchestrated a remarkable recovery, contributing an unbeaten 78 off 69 balls, propelling his team to a competitive 245 for eight. Edwards' stellar performance set the stage for an exciting contest, as the Netherlands aimed to defend their total against a formidable opponent.
In the match, the Netherlands demonstrated exceptional teamwork, with notable performances from Paul van Meekren and spinners Colin Ackermann and Roelof van der Merwe. They collectively contributed to the Dutch team's success, and their bowling efforts stifled South Africa's batting lineup.
Netherlands Beat SA in a Historic Worldcup Encounter
The Netherlands' triumph over South Africa marked a historic milestone, as it was their first World Cup victory against a Test-playing nation. Prior to this victory, the Dutch had only defeated fellow associate nations Namibia and Scotland in their World Cup history, which began in 1996. This unexpected outcome occurred just 48 hours after Afghanistan shocked defending champions England, highlighting the unpredictable nature of this 10-team competition.
The Netherlands, who secured their World Cup berth by finishing second in the Qualifier earlier in the year, have shown significant improvement over the years. Notably, the Dutch previously defeated the Proteas in the T20 World Cup, and this latest win reaffirms their prowess in a less unpredictable format; this victory is expected to garner increased interest and followers for cricket in a nation traditionally devoted to football.
Also read: Disney's Hotstar Breaks Records with India-Pakistan Cricket Match Streaming