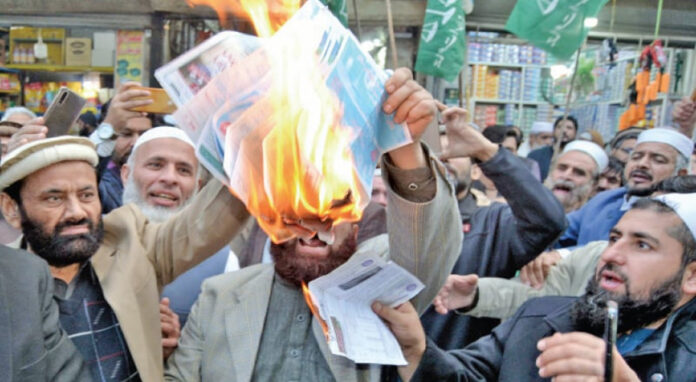 A wave of fervent discontent has swept across the nation as traders' associations and the general public join hands in vehemently protesting against the escalating electricity bills. Demanding an immediate reduction in the ever-mounting electricity prices and additional taxes appended to power bills, these nationwide demonstrations highlight a collective outcry against the financial burden imposed on the masses.
جماعت اسلامی کی اپیل پر کے الیکٹرک کےخلاف شاہراہ فیصل پر عوامی احتجاج pic.twitter.com/iRRUacpojm

— Syed Anwarullah Hussaini (@syedova26117291) August 25, 2023
Demand for Fair Pricing and Protection Against Escalating Electricity Bills
The protests initially ignited in Karachi and reverberated throughout the country, with demonstrations in major cities such as Lahore, Peshawar, and Quetta. The focal point of these protests was the unconscionable charges levied by K-Electric, sparking outrage and catalyzing the demand for equitable electricity pricing. Trade leaders and representatives, along with the support of the Jamaat-e-Islami (JI), articulated their grievances against the relentless upward trajectory of electricity costs. The sheer magnitude of participation underscored the collective frustration over the financial strain faced by citizens due to inflated bills.
گوجرانوالہ میں بجلی کے مہنگے بلوں کیخلاف احتجاج، شہریوں نے بل جلا دیئے۔۔۔!!! pic.twitter.com/6quoZ5lQZs

— Mughees Ali (@mugheesali81) August 25, 2023
Voices of Dissent Amplify Across Regions
The wave of discontent reached far beyond Karachi's borders, as Azad Jammu Kashmir bore witness to similar protests where traders resorted to symbolically burning electricity bills in a dramatic display of dissent. Slogans denouncing the government and administration resonated amidst the fiery spectacle, highlighting the depth of resentment. Large crowds gathered in other cities such as Attock, Taunsa, and Multan to voice their opposition to the exorbitant electricity bills. The chorus of disapproval only grew louder as the protests gained momentum across diverse regions of the country.
As the protests escalated, the traders' determination culminated in a decision to file a First Information Report (FIR) against the CEO of K-Electric, Moonis Alvi. This pivotal step was precipitated by an incident wherein KE personnel allegedly engaged in unruly behavior during the protests. Sharjeel Goplani, a prominent trader leader, expressed the frustration that has been mounting over the past year and a half, highlighting that the citizens have consistently met their financial obligations by paying their bills promptly.
انجمن تاجران تونسہ شریف نے پیر کو پہیہ جام ہڑتال کا اعلان کردیا، ظالمانہ بجلی بلوں کیخلاف احتجاج، بل جمع نہ کرانے کا اعلان۔۔۔!!! pic.twitter.com/9lolRtZHiU

— Mughees Ali (@mugheesali81) August 25, 2023
Also read: Pakistan's Tech Industry Struggles Amidst High Inflation and Lack of Government Support