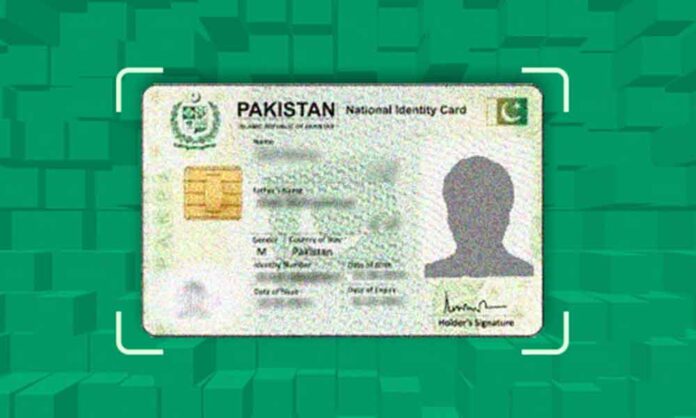 The National Database and Registration Authority (NADRA) has inaugurated a new verification system for the computerized national identity cards (CNICs). This new system will also aid in the renewal process of the identity cards. 
New Verification System will be Used to Identify Fake Identity Cards
As per an official of NADRA, the latest system can verify or distinguish the registration of any unrelated person in the family system. He stated that with this new initiative, an operation has been begun against foreigners residing in Pakistan unlawfully. This latest technology of verification system will be employed to recognize a fake identity card through artificial intelligence (AI) and the registration will be canceled promptly.
Citizens Can Now Receive Details and Verification of Family Members on their Phones
"If any information is incorrect or the name of a stranger or unrelated person is included in the family, write 1 and send the SMS to inform NADRA, or go to any NADRA Registration Centre to unregister that name," the authority's chairman Tariq Malik announced in a statement on Saturday. If the information is correct, type 2 and send the SMS to validate the information. To obtain the verification and renewal service, it is essential to register the SMS with NADRA from the exact mobile number which was given at the NADRA Registration Centre while seeking the identity cards or "B" forms.
آپ کے خاندان میں کوئی غیر متعلقہ فرد تو رجسٹرڈ نہیں؟

ایک SMS سے تصدیق کریں، گھر بیٹھے با آسانی۔

نادرا میں اپنےرجسٹرڈ موبائل نمبر سے 8009 پر اپنا قومی شناختی کارڈ نمبر Space تاریخ اجراء dd-mm-yyyy
SMS کریں جواب میں آپ کواپنے خاندان کے افراد کی تفصیلات(فیملی ٹری) موصول ہوں گی۔ pic.twitter.com/Xw2nychHPb

— NADRA (@NadraMedia) August 21, 2021
Read more: Government to launch Mobile App 'MyCare+' to Protect Emotional Health of Frontline Covid Responders
Under the system, "a Pakistani can verify that no stranger or unrelated person is registered in their family, if there is any improper entry, they should report it [to] NADRA at the earliest," stated the authority's statement. The authority has launched an awareness campaign titled "Your family is safe, Pakistan is safe".
NADRA Launched Operation Against Foreigners Living in Pakistan Illegally
The system would further help the authority check foreigners illegally residing in Pakistan, the statement added. This concern was addressed recently during a visit of Prime Minister Imran Khan to NADRA headquarters where he talked with the NADRA authorities reviewing the reports from the security establishment, concerning the foreigners unlawfully living in Pakistan and owning CNICs.
Mr. Malik informed the Prime Minister that tech advancements such as artificial intelligence would be utilized to make the NADRA database free of any sort of fake entries and to identify fake identity cards. The PM was further briefed on the roadmap of NADRA regarding the Digital Pakistan drive.