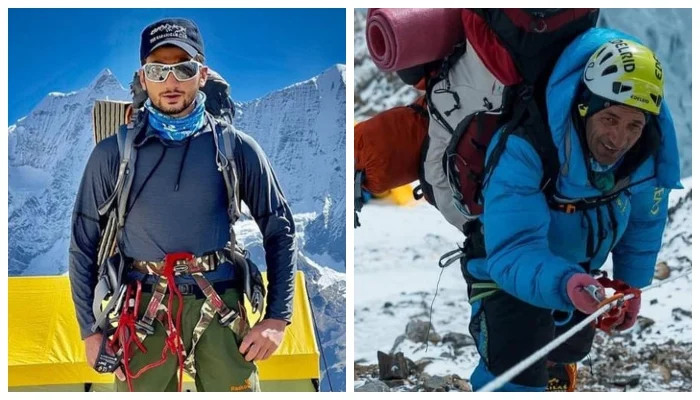 The missing mountaineers Shehroze Kashif from Lahore and Fazal Ali from Gilgit-Baltistan have been seen descending from camp 4 on Nanga Parbat, on their own. The police officials present at the Camp 3 confirmed that the telescope visuals showed the mountaineers descending from camp 4.
The missing mountaineers are safe and sound
Shehroze Khasif 's father, Kashif Salman, called on the Chief of Army Staff (COAS) General Qamar Javed Bajwa, for rescuing his son along with the fellow mountaineer, Fazal Ali. In. Video message, Salman was seen asking for help as he was not able to establish contact with his son since 7:30pm yesterday (Tuesday) and was in need to rescue.
GB Home Secretary, Iqbal Hussain Khan, confirmed that Kashif and Ali had gone missing between camps 3 and 4 (7,000-8,000m) while they were descending from the summit. However, the police present at the base camp have confirmed that both Shehroze and Fazal Ali are safe and their movement is visible on a telescope from the camp. According to the update from Shehroz's official Facebook page; "The two mountaineers had spent the night in the open to wait for the weather to get clear and resumed their descent early in the morning. The duo is showing great resilience and willpower to manage things themselves in death zone and now approaching Camp 3 soon."
Mountaineer Sharif Sadpara goes missing
The famous mountaineer, Sharif Sadpara, went missing while scaling Skardu Broad Peak. He was accompanying a team of foreign climbers when he reportedly slipped from a height of 7,000 feet and fell into a ditch. His colleague, Dilawar Sadpara, said, "Sharif Sadpara could not maintain his balance due to strong winds on the high altitude and fell on the Chinese side before disappearing."
Read more: Famous Pakistani Mountaineer Ali Raza Sadpara Passes Away