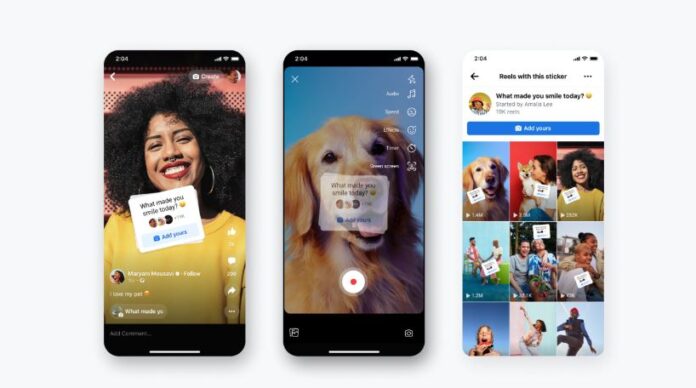 Meta recently announced that it's now rolling out new Reels features for Instagram and Facebook. The company is rolling out an "Add Yours" sticker for Reels on both Instagram and Facebook. The new Reels features allow users to respond to other users' Reels with their own following a prompt or a certain topic. For instance, users can share a Reel with an Add Yours prompt that asks others to post videos of their pets using the new Reels features.
The New Reels Features Are Aimed to Getting Users to Collaborate With Each Other
Each time a user shares a new Add Yours prompt, Reels added by others will appear on a page dedicated to that prompt. At the top of the page, people will see who started the prompt in order to give credit to the originating creator. Although these Reels features are aimed at getting users to collaborate, they can also be seen as a way to discover more people to follow. The feature was first introduced for Instagram Stories last fall. 
According to Meta, the sticker is one of the popular Stories and Reels features, so it makes sense for Meta to bring it Reels as well, especially given its plans to double down on the short-form video feature. Since the sticker encourages users to post their own Reels in response to an original one, Meta could see it as a way to increase the number of Reels on its platforms, while also getting users who may not have otherwise posted Reels to share one.
Fans Can Now Show Support to Their Favorite Creators Using the New Feature Stars
Meta also announced that it's opening up Stars, the virtual items that allow fans to express their support for their favorite creators on Facebook Reels for all eligible creators. The company previously expanded Stars to Facebook Reels and is now rolling it out to all eligible creators. Meta also notes that it recently launched new mobile options for getting started with Stars and for tracking earnings.
Read more: Meta to Shut Down its Couples App, Tuned