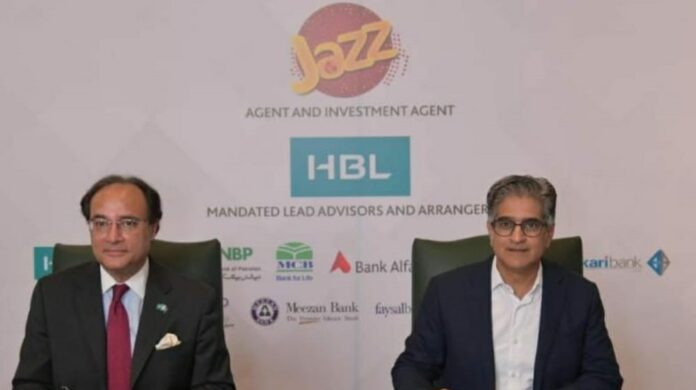 Jazz secures a PKR 50 billion syndicated bank facility from a banking consortium led by HBL. This 10-year facility will be used to support the company's steady 4G network deployments and technological advancements.
This one of its kind facility is entirely supported by HBL, the consortium's investment representative and mandated lead arranger. This facility is also expanded to the Telecom division in terms of the amount and tenure.
United Bank Limited, National Bank of Pakistan, MCB Bank, Bank Alfalah, Allied Bank Limited, Askari Bank Limited, Bank of Punjab, Meezan Bank Limited, and Faysal Bank are among the other groups partaking as mandated guide and consultants on this agreement.
Jazz is the country's top digital services provider having over 69 million subscribers, more than 28 million 4G users nationwide, and 8 million registered JazzCash users. Over the period of two years, Jazz has invested 462 million dollars on 4G infrastructure. Recently, 14.6 billion rupees was invested by Jazz in the first quarter of 2021 as a principal endeavor for the 4G network.
Read More: Jazz introduces 4G roll out in the region of South Waziristan
"We continue to drive the digital Pakistan plan by improving digital framework, connecting the digital divide, and zeroing in on financial consideration. We are empowering societies by investing in entrepreneurship, advanced abilities, and proficiency. This facility is an integral step towards guaranteeing that people are not limited by the impediments of demography, gender, or socioeconomic background, in outfitting the power of the web. A transaction of this site is a demonstration of the trust that jazz secures in the financial community, its solid financial profile and its administrative role in the telecom industry," said Gabor Kocsis, Chief Financial Officer, Jazz.
The Pakistan Credit Rating Agency Limited has recently promoted Jazz's long-term rating to 'AA' (a high degree of safety regarding services and monetary obligations) defining the company's powerful financial profundity in the industry.
Muhammad Aurangzeb, President and Chief – HBL remarking on the event expressed, "We are pleased to have driven this milestone transaction in the telecom area. HBL has a long-standing relationship with JAZZ crossing over twenty years. For the Bank, such transactions serve HBL's strategic need of supporting the advancement of digitalization across the nation, while highlighting HBL's obligation to remain by the robust and reformist Telecom sector of Pakistan."
Source: Jazz