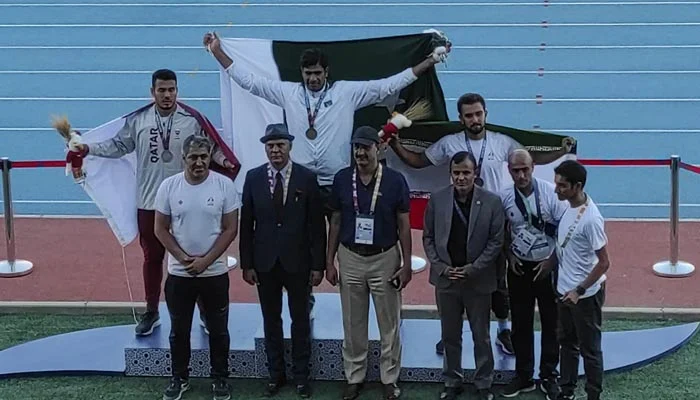 Arshad Nadeem has bagged a gold medal for Pakistan at the Islamic Solidarity Games 2022 in Konya, Turkey. Arshad managed to throw the javelin with a game record of 88.55 meters in his second attempt. In his first attempt, Nadeem threw the javelin at a speed of 79.40 meters, followed by 88.55 meters, 75.50 meters, 82.40 meters, and 83.33 meters. Despite coping with an elbow and knee injury, the star athlete displayed his domination over his rivals and left them behind.
Arshad Nadeem has Won Four Gold Medals in his Career
Recently, at the Commonwealth Games, Arshad brought home a gold medal in the javelin throw competition, where he became the first South Asian to cross 90m. By doing that he beat India's Neeraj Chopra's Tokyo Olympic throw of 87.58m (Gold) and the World Athletics Championship throw of 88.13m. The gold won in Konya is the fourth of Nadeem's international career. The other two were in the Imam Reza Athletics Championship 2021 and South Asian Games 2019.
Read more: Pakistani Athlete, Arshad Nadeem, Wins Javelin Gold at Commonwealth Games
The Islamic Solidarity Games is featuring at least 4,000 athletes from 56 Muslim countries, who are competing in 24 different games while vying for a total of 355 medals. Previously, the Games had been staged in Saudi Arabia (2005), Iran (2010), Indonesia (2013), and Azerbaijan (2017). However, the Tehran edition had to be called off following a dispute between Iran and Saudi Arabia.
Twitter Reacts to Arshad's Consecutive Victory
Twitterati were in awe as the super athlete Arshad Nadeem made a new record and won a Gold medal in a Javelin throw event in the Islamic Solidarity Games 2022. Here are some of the most liked reactions:
Anmol Farya wrote; "No one even close to him, Arshad Nadeem the living legend." Saadia said; "What did we do to deserve this amazing superhuman!" Meanwhile, the Pakistan Olympics Federation also congratulated Arshad Nadeem on his yet another victory.
No one even close to him, Arshad Nadeem the living legend ?? @arshadn0fficial @ArshadOlympian1 ? pic.twitter.com/LDv8XsBDSI

— Anmol Farya (@Anmol_xk) August 12, 2022
Arshad nadeem secures another gold medal with a throw of 88.55 m in Islamic solidarity games.

What did we do to deserve this amazing super human! ? maasha Allah maasha Allah pic.twitter.com/mk19sCZjxU

— Sadia A ?? (@DrSadiaAz) August 12, 2022
Arshad Nadeem bags gold medal for Pakistan at the 2022 Islamic Solidarity Games in Konya!

Arshad's score: 79.40 – 88.55 – 75.50 – 82.40 – 83.33

Congratulations @ArshadOlympian1 pic.twitter.com/Kb03r4gfIH

— Pakistan Olympic Association (@NOCPakistan) August 12, 2022