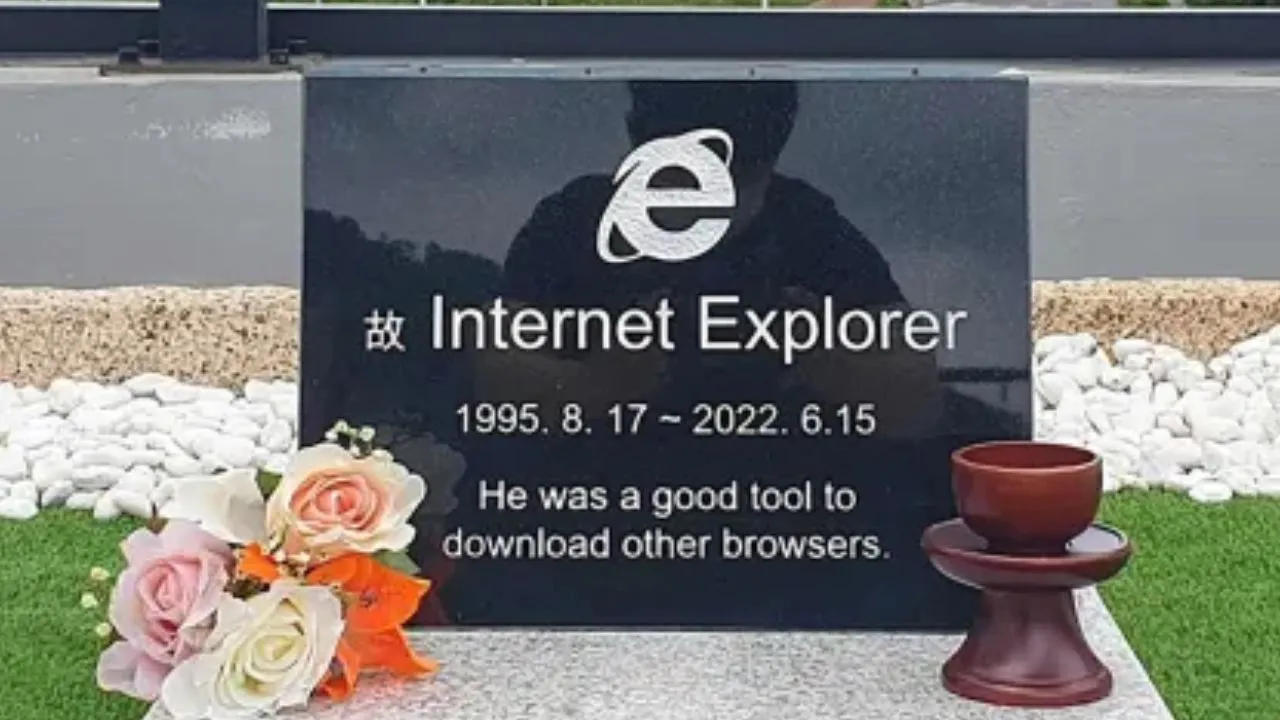 A South Korean software engineer, For Jung Ki-young, bid farewell to Microsoft's Internet Explorer in an astounding manner as it was recently discontinued by the tech giant after 27 years. To mark the browser's "death", an Internet Explorer gravestone marked with its signature "e" logo was set up on the rooftop of a cafe in South Korea's southern city of Gyeongju by the software engineer.
Internet Explorer gravestone worth 330 dollars
During an interview with an international media outlet, Jung said the memorial showed his mixed feelings for the older software, which had played such a big part in his working life. He further added; "It (Internet Explorer Browser) was a pain in the ass, but I would call it a love-hate relationship because Explorer itself once dominated an era." For Jung spent a month and 430,000 won ($330) designing and ordering a headstone with an IE logo and the inscription which reads; "He was a good tool to download other browsers."
the software engineer mentioned that it took him longer to make sure his websites and online apps worked with Explorer than with other browsers. But, his customers kept asking him to make sure their websites looked good in Explorer, which remained the default browser in South Korean government offices and many banks for years. Internet Explorer was one of the world's leading browsers for more than a decade as it came bundled with Microsoft's Windows operating system on billions of computers.
Twitterati reacts to the unique tribute
Here are some of the best reactions to Jung's unique tribute to the ex-browser:
Someone built a real tombstone of Internet Explorer in Korea. "He was a good tool to download other browsers." https://t.co/42vnkoQshd pic.twitter.com/ud3SMiyLNp

— Soonson Kwon (@ksoonson) June 15, 2022
I can't believe someone in South Korea went to the trouble of commissioning a tombstone for Internet Explorer just so they could kill it a second time with the most vicious roast you'll ever see pic.twitter.com/5xpePtoPkN

— Cian Maher (@cianmaher0) June 17, 2022
👍👍👍👍
In South Korea Microsoft Internet Explorer was buried in a human way.

They put a gravestone, planted flowers and composed a touching inscription: "It was a good way to download other (normal) browsers". pic.twitter.com/mNELSKH8Vw

— Humanbydesign (@Humanbydesign3) June 19, 2022