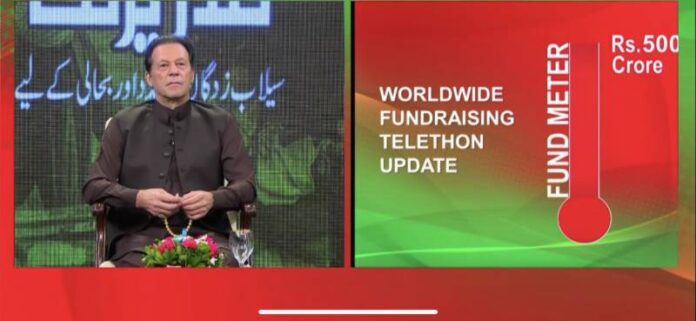 Chairman of Pakistan Tehreek e Insaf and the Ex-PM of Pakistan, Imran Khan, collected more than Rs. 5 billion rupees for the flood affectees by holding an international fundraising telethon. Khan was joined by several celebrities including; Chief Minister of Punjab Pervaiz Elahi, Khyber Pakhtunkhwa Mahmood Khan, and the former premier's ex-assistant on social protection Sania Nishtar was also featured in the international fundraising telethon.
Overseas Pakistanis Donated in Huge Amount to the International Fundraising Telethon
In the three-hour-long telethon, overseas Pakistani donated a huge sum of money for the flood affectees, which amounts to more than Rs. 5 billion, according to Senator Faisal Javed Khan. Imran Khan said that he is setting up a control room so that help could be reached wherever it is needed and the members of the Tiger Force would also be sent to the flood-hit areas to help the victims.
Amir Khan (boxer )donated 5 Million Rupees for the tragic floods in Pakistan & an additional 5 Million rupees through the generosity of the UK community.
My team is currently on ground helping.
Amir Khan Foundation
Imran Khan PTI#بغیرت_بڈھی pic.twitter.com/QyVDCidMI9

— The Current Pakistan (@CurrentPaki1) August 29, 2022
The telethon featured donations from British-Pakistani boxer Amir Khan who announced an immediate donation of Rs5 million for the flood victims, a prominent Pakistani- American businessman, Mr. Javaid Anwar, announced to donate $1 million for the flood victims, journalist Sabir Shakir also announced Rs500,000 donations for the flood-affected people. Moreover, prominent Pakistani celebrities also took part in the telethon and urged the masses to donate to Imran Khan's fund.
Death Toll Climbs to More than 1000
The death toll from the devasting flood has reached over 1000 while 1,634 individuals are injured, according to the NDMA data. However, the authorities are expecting this toll to rise as there are many villages that have been totally cut off after the flood washed away roads and bridges. The Finance Minister of Pakistan, Miftah Ismail, mentioned that the economic losses caused by the floods could amount to $10 billion.
Also read: PTA, NHMP Launches Travel Advisory SMS Service for People to Exercise Caution while Traveling