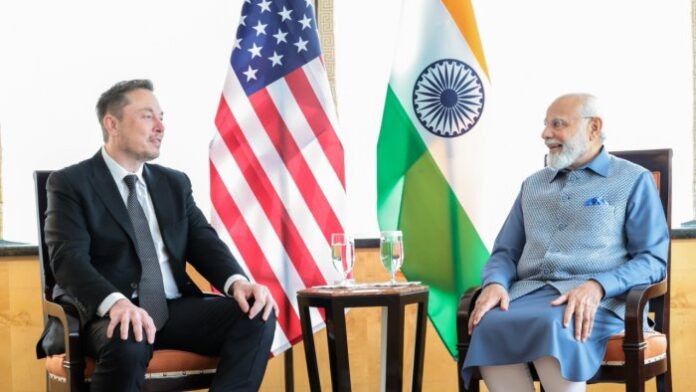 Indian Prime Minister Narendra Modi recently met with renowned entrepreneur Elon Musk during his state visit to the United States. Musk's admiration for PM Modi and his acknowledgment of India's potential for technological advancements became evident during their interaction. "I can say he wants to do the right thing for India. He wants to be open, he wants to be supportive of new companies, obviously, but at the same time, make sure it accrues to India's advantage, which is the job I'm saying. I am a fan of Modi," Musk said.
Great meeting you today @elonmusk! We had multifaceted conversations on issues ranging from energy to spirituality. https://t.co/r0mzwNbTyN pic.twitter.com/IVwOy5SlMV

— Narendra Modi (@narendramodi) June 21, 2023
Musk's Appreciation for PM Modi and India's Development
During their meeting, Elon Musk expressed his fondness for Prime Minister Narendra Modi and reminisced about Modi's prior visit to a Tesla factory in California. Musk commended Modi's deep-rooted concern for India's development and praised his efforts in urging Tesla to make significant investments in the country. He stated that Modi wants to do the right thing for India and be supportive of new companies while ensuring that it benefits India's advantage. Musk's appreciation reflects his admiration for Modi's leadership and emphasizes the prime minister's commitment to creating a favorable environment for innovation and business growth.
Strengthening India's Technological Landscape through Collaboration
The meeting between Musk and Modi highlighted the mutually beneficial relationship between Tesla and India. Musk's recognition of India's potential holds significant weight as he is one of the world's most influential visionaries and pioneers in the electric vehicle industry. His endorsement of India's prospects emphasizes the positive trajectory of India's economic growth and the dedication of the Indian government to establish a conducive business environment.
Furthermore, Musk discussed his potential visit to India in the near future to talk about Tesla's plans and introduce his satellite internet constellation, Starlink, indicating the potential for collaboration and technological advancements in India, particularly in areas like electric vehicles and satellite internet connectivity. "I'm tentatively planning to visit India again next year. I am looking forward. We're hopefully looking forward to bringing Starlink to India as well. The Starlink Internet, which I think can be incredibly helpful for remote or rural villages in India," he said.
Also read: Elon Musk Lands in Beijing; Meets Foreign Minister Qin Gang