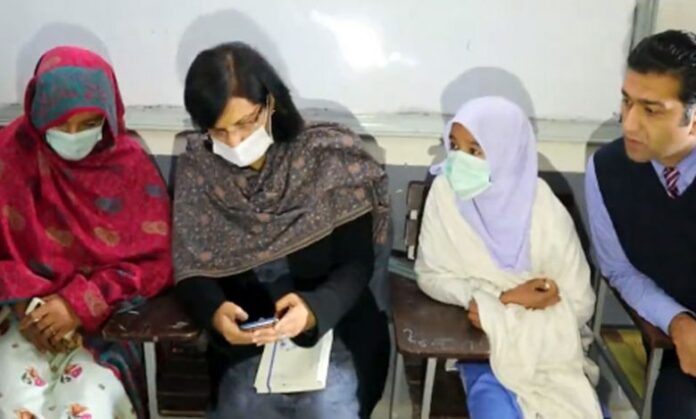 Special Assistant to the Prime Minister on Poverty Alleviation and Social Protection,  Dr. Sania Nishtar launched the Ehsaas Taleemi Wazaif App that will enable enrollment of children from Ehsaas eligible households at their doorstep. On International Day of Education, Dr. Sania launched the app by enrolling a girl student at Government Girls College Kot Hathial.
Read more: Here is How to Apply for Ehsaas Rashan Program and Check Eligibility Status
The Ehsaas Taleemi Wazaif program
PM Imran Khan has launched a program for the assistance of poor students. The main objective of this Ehsaas Taleemi Wazaif program is to help the primary, elementary, and secondary students belonging to low-income families to get quarterly specific amounts of money as educational expenses. According to the Ehsaas policy, Ehsaas Taleemi Wazaif gives a higher amount of stipend to girls as compared to boys. Stipends are given from primary to the higher secondary level to children aged 4-22 years from families eligible in the Ehsaas ecosystem.
The program has been set up for nationwide execution after hard work and multiple inputs over the last 3 years. Ultimately, the program aims to support the education of 10 million children across all Tehsils of the country. Dr. Sania said; "Education offers poorest families a ladder out of poverty and a path to prosperity. This is why Ehsaas is focusing on improving the education access of poorest families through its school stipend program, said she on the occasion. Facilitating people to self-enroll their children under the program, we have also introduced the app today. Using this app, families can enroll their children themselves at their doorstep without visiting any office."
Quarterly stipends received through the program
Male primary students will receive a quarterly stipend of Rs. 1,500, while female primary students would receive Rs. 2,000 under the Ehsaas Taleemi Wazaif. Whereas, male secondary students will receive Rs. 2,500 female secondary students would receive Rs. 3,000. Higher secondary students will receive Rs. 3,500 for males and Rs. 4,000 for females. The Ehsaas Taleemi Wazaif application is open to students aged 4 to 22 who have their families registered with the Ehsaas program.
Source: ARY News