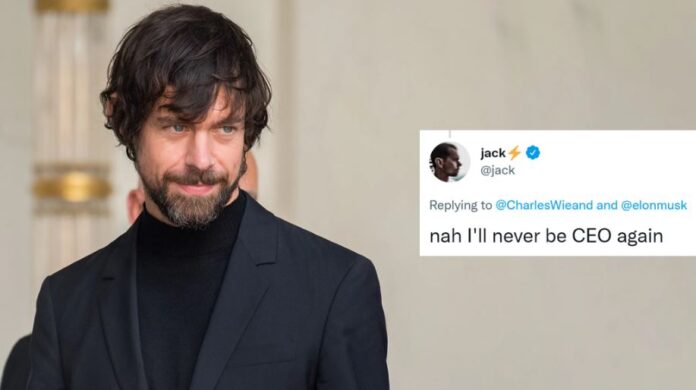 Co-founder of Twitter, Jack Dorsey says he will never be Twitter CEO again even after Elon Musk completes his acquisition of the social media platform for $44 billion. "I'll never be CEO again" Dorsey tweeted on Wednesday, replying to a tweet by Charles Wiand predicting Musk will "eventually just ask" Dorsey to take on the role of Twitter CEO again.
nah I'll never be CEO again

— jack⚡️ (@jack) May 11, 2022
Jack Dorsey Made Clear About Not Wanting to Become Twitter CEO 

Again 
Some Twitter users urged him to rethink, but Dorsey answered with a second "Nah," stating the company should "roll the dice again" and start new. Jack Dorsey has stated on multiple occasions that he sees Twitter as a public good and is against running it as a corporation. "In principle, I don't believe anyone should own or run Twitter. It wants to be a public good at a protocol level, not a company," Dorsey tweeted last month.
nah. it's time to roll the dice again.

— jack⚡️ (@jack) May 11, 2022
Jack Dorsey Considers Musk's Buyout As the 'Right First Step'
Furthermore, Elon Musk, who manages Tesla and SpaceX, is in the midst of concluding his acquisition of Twitter. The deal is expected to close in October. In April, Jack Dorsey tweeted that he considered billionaire Musk's buyout was the "right first step" in righting Twitter before continuing that Musk was the "singular solution" he trusts to lead the platform.
In principle, I don't believe anyone should own or run Twitter. It wants to be a public good at a protocol level, not a company. Solving for the problem of it being a company however, Elon is the singular solution I trust. I trust his mission to extend the light of consciousness.

— jack⚡️ (@jack) April 26, 2022
In addition to the Twitter CEO fiasco, Jack Dorsey co-founded the platform in 2006. He was fired from his role as CEO two years later but returned to helm the company again in 2015. Dorsey then stepped down in November and handed over the company's reins to software engineer Parag Agrawal. Musk and Agrawal have often clashed, with the Tesla CEO regularly mocking Agrawal. In a securities filing on April 13, Musk stated he did not "have confidence in management." 
Read more: Twitter Co-Founder Jack Dorsey Calls Elon Musk's Takeover as 'Right Path' for Twitter